Coaching Staff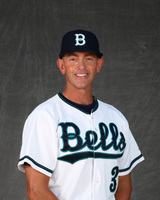 Adam Geaslen
Head Coach/Manager
Adam Geaslen returns to the Bells staff for his fourth season in 2021 after joining the Bells during the summer of 2018. After two seasons as an assistant coach on Coach Bob Miller's staff in 2018 and 2019, Geaslen was named Head Coach in October 2019 and will lead the Bells during the 2021 season.
Geaslen brings a wealth of baseball knowledge and experience, including time spent as the Associate Head Coach at Clark College in Vancouver, Wash.
Currently, Geaslen serves as an assistant coach on the Edmonds Community College baseball staff.