Coaching Staff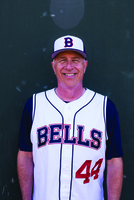 Jim Clem
Pitching Coach/Recruiting Coordinator
Jim Clem is one of the most recognized names among baseball coaches in the Pacific Northwest and beyond. For his extraordinary success, six different institutions have chosen Coach Clem to be inducted into their respective Hall of Fames. They include the Washington State Baseball Coaches Association Hall of Fame (1993), the Washington American Legion Baseball Hall of Fame (2012), the Burlington-Edison High School Hall of Fame (2013), the Washington Interscholastic Activities Association Hall of Fame (2014), and also his alma maters, the Central Washington University Hall of Fame (2014) and Peninsula College Hall of Fame (2016).
Coach Clem started his high school coaching career at Dayton High School (Dayton, WA) where he spent two seasons before taking the helm at Burlington-Edison High School (Burlington, WA). In his 28 seasons as the head coach at Burlington-Edison High School, his teams won 12 conference championships and appeared in 15 state tournaments. In 2006, Clem was named the Washington State Baseball Coach of the Year as well as the National High School Baseball Coaches Association Coach of the Year for Washington State. After 30 seasons, he finished his high school coaching career with a record of 481 wins and 211 losses, which at the time, ranked him ninth all-time in wins among Washington State baseball coaches. As a high school coach, Clem had over 100 of his players go on to play college baseball and saw nine of his players get drafted by Major League Baseball teams, including pitchers Jason Brester (2nd round-San Francisco Giants) and Jim Gutierrez (5th round-Seattle Mariners). He has also had one player sign a MLB free agent contract, and had five other players go on to play Independent League baseball. One player also played professional baseball for the Perth Heat in Perth, Australia.
At Burlington, Clem also spent time coaching various levels of American Legion baseball between 1982 and 2005. While with the legion program, his teams won nine conference championships and made 14 state tournament appearances. He helped guide teams to state championships in 1991, 1994, and 2005. The 1991 and 2005 teams also won National Regional Championships. Clem's combined high school and legion coaching record is an impressive 1139 wins and 436 losses, which puts him in a special class of coaches across the nation.
After Coach Clem retired from Burlington-Edison High School, Bellingham Bells Manager Gary Hatch named Clem to be his pitching coach for the 2011 season. Coach Clem is now entering his ninth season as the Bells pitching coach. Under his direction, the Bells' pitching staffs have had great success, always ranking at, or near, the top in every statistical category, including the 2015 and 2018 seasons where the Bells staff owned the league's lowest ERA and allowed the fewest runs. The Bells have had 21 pitchers named to the West Coast League "All-Star Game" during Clem's tenure, including a league best (5) in 2014. Several have been named West Coast League "Pitcher of the Week" as well. Pitching is his specialty, but Coach Clem is also well respected for his overall knowledge of the game, as well as for his ability to teach the game to his players. While people will tell you he is a humble man, his ability to motivate players and captivate an audience is second to none. Coach Clem is a gifted teacher, and is often asked to speak at seminars and coaching clinics. If you are fortunate enough to spend some time with Coach Clem, you will immediately recognize his knowledge and passion for the game, as well as for the Bellingham Bells.
Clem graduated from Enumclaw High School in 1971 where he was a standout player on both the Hornets' basketball and baseball teams. He then earned his Associates of Arts degree from Peninsula College in 1973. While there he played on both the basketball and baseball teams, as well as serving as student body president. As a Pirate, Clem pitched and played the outfield for two seasons and was also named the teams' captain and MVP. He went on to pitch at Central Washington University for two more seasons, winning the Evergreen Conference Championship in 1974 and 1975 and qualifying for post-season play in both of his years as a Wildcat. While at CWU, he earned bachelors' degrees in history, psychology, and education, graduating in 1976. He later earned his master's degree in athletic administration at Central Washington University in 1993.
Coach Clem has previous ties to the Bells as both of his sons, Zach and Jacob, have been members of past Bells teams. Zach played for the Bells in 2003 and 2004 and Jacob played for the Bells in 2007. Both sons had outstanding high school careers while playing for Coach Clem at Burlington-Edison High School. Zach and Jacob both earned "All-State" honors. Zach went on to play his college baseball at the University of Washington (2003-2006), where he was one of the PAC-10's leading players. As a Husky, Zach was named a 3-time "All PAC- 10" outfielder (twice making the 1st team) and was one of the nation's leaders in homeruns (20 in 2006) while also maintaining a .322 career batting average. Zach was drafted by the Milwaukee Brewers in the 11th round in 2006 and played until injuries ended his career in 2007. Jacob also chose to play his college baseball at the University of Washington (2008-2011) where he was named Husky "Pitcher of the Year" for both his junior and senior seasons. Jacob was named an "All PAC-10" pitcher in 2010. After college, Jacob served as an assistant coach for the Bellingham Bells in 2011. Following the Bells' season, Jacob left to play professional baseball in Australia where he pitched for the Perth Heat during the 2011-2012 season. While playing for Perth, he helped the team win the Australian Baseball League Championship, pitching in the final championship game. Jacob then returned to the United States to play with the Traverse City Beach Bums (MI) of the Frontier League during the summers of 2012 and 2013. He was named to the "All-Star" team in 2012. Jacob returned to play in Australia in 2014. After his return from Australia, he served as the pitching coach for the Long Beach Legends. Both sons graduated from the University of Washington, Zach earning his degree in economics and Jacob a business degree. Zach is currently working as a Senior Provider Compensation Consultant for Providence in Seattle and Jacob is the Sports Director for the Skagit Valley YMCA in Mount Vernon, WA.
Coach Clem, and his wife Annette, called Burlington, WA their home for many years, raising their family there. Annette pursued a career in nursing and retired in 2016 from Skagit Valley Hospital in Mount Vernon, WA. Annette has many talents and interests. She especially enjoys staying active through physical exercise, as well as painting (artist), gardening, reading, cooking, and spending time with family and friends. Both Coach Clem and Annette enjoy travelling and hope to see the world together. Just this past fall, Coach Clem and Annette embarked on a new adventure, moving to the Olympic Peninsula. Coach Clem credits his parents, Frank and Vera Clem, for instilling in him a love for the game of baseball, and gives special thanks to Annette and his family for their unwavering support.
Coach Clem spent 35 years in public education, working as a teacher, coach, and athletic director. A proud Tiger, he retired from Burlington-Edison High School at the end of the 2011 school year and then returned to the baseball program serving as an assistant in 2013 - 2018. Coach Clem helped assist at Port Angeles High School in 2019. Coach Clem wants everyone to know that he is proud and honored to be a member of the Bells coaching staff and that he truly appreciates the Bellingham Bells and all that they do for the people in their organization and also for the great city of Bellingham, calling it a "first class organization."
GO BELLS!