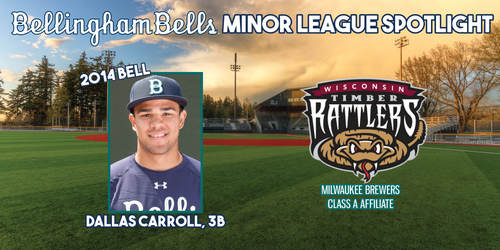 10/03/2017 10:19 AM
Dallas Carroll has had a lot of early success with his time in the Milwaukee Brewers organization. After being drafted in the ninth round of the 2017 MLB Draft, Carroll began his career assigned to the Helena Brewers, the Brewers' Rookie League team. Over the 30 games he appeared in at the rookie level, he averaged .336 from behind the plate, knocked out five home runs, and recorded 21 RBIs.
After his successes in Helena, Carroll was called up to the Wisconsin Timber Rattlers in early August to join the Brewers Class-A affiliate. There he appeared in another 30 games and continued his successful debut season, recording an additional four home runs and 13 RBIs while averaging .261 at the dish. He finished the 2017 minor league season with a batting average of .300. Carroll also earned some recognition for his play, which includes being named Player of the Week in July, as well as earning a spot on the Pioneer League All-Star team. Dallas is still active in the Milwaukee Brewers organization and we look forward to seeing where his successes take him next!
To continue to follow Dallas, click here.