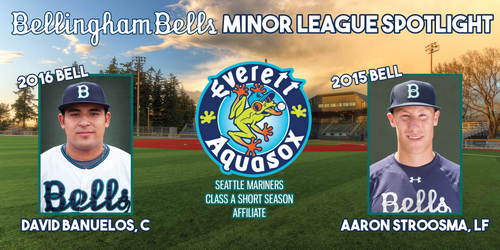 09/12/2017 11:54 AM
David Banuelos, C, 2016 Bell
David was drafted by the Seattle Mariners during the 2017 MLB Draft in the 5th round. He made the trip back to the Pacific Northwest and proved to be an asset to the Class A Short Season Everett AquaSox. In his 36 games, he averaged .236 from the plate, as well as knocking four dingers over the fence and bringing in 26 runs. Banuelos was named Player of the Week in July and also earned the title of "All-Star" during his first season in the Northwest League. David is still active in the Mariners organization and we look forward to his progress here in the northwest!
Aaron Stroosma, LF, 2015 Bell
Stroosma joined the Mariners organization as an undrafted free agent and made his presence felt on the field this season. Stroosma recorded a batting average of .213 with nine runs batted in, and a GRAND SLAM to his name. He also made 14 starts in the outfield for the AquaSox and recorded no errors. Stroosma is also still active in the Mariners orgainzion and we are happy to have him back in the area!
For more information on the AquaSox and Mariners organization, click
here
.