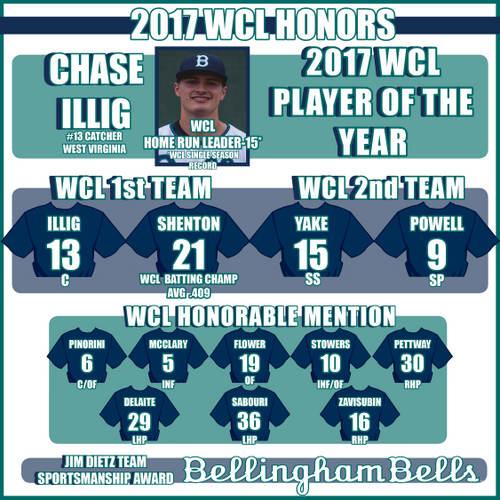 08/21/2017 11:04 AM
Chase Illig has been named the 2017 West Coast League Player of the Year, WCL President Brian Sloan announced today. Illig, a catcher from West Virginia University, led the league with 15 home runs during the 2017 season, and also compiled 52 RBIs (second overall) and a .360 batting average (fourth overall). Illig was also named to the 2017 WCL All-Star Team and was the winner of the WCL Home Run Derby.
"We are thrilled to see Chase cap off a tremendous season with this special honor," Bells' general manager Stephanie Morrell said. "Chase is a true professional who is highly determined and has an incredible work ethic. He is very deserving of this honor and we are extremely proud of him for the effort and energy he put in this summer."
The Bells were also honored with the Jim Dietz Sportsmanship Award, an award voted on by West Coast League coaches to recognize the team which best exemplifies the ideals of sportsmanship on the diamond.
"We are truly humbled and honored to have been selected for this award by WCL coaches," Morrell said. "This group of players and coaches rose to the challenge of competing at a high level on the field while maintaining an equally high level of professionalism, class and sportsmanship. We are incredibly proud of them for the way they represented our hometown team this summer."
In total, 12 Bells were honored as part of All-WCL teams. Infielder Austin Shenton (Florida International University) was also named the WCL Batting Champ after completing the season with the league's highest batting average.
The following Bells were named to the All-West Coast League Conference Teams:
First Team All-West Coast League:
· Austin Shenton, Infielder, Florida International University
· Chase Illig, Catcher, West Virginia University
Second Team All-West Coast League:
· Holden Powell, Starting Pitcher, UCLA
· Ernie Yake, Infielder, Gonzaga University
Honorable Mention All-West Coast League:
· Trevor DeLaite, Relief Pitcher, University of Maine
· Max Flower, Outfielder, Cal-Berkeley
· Brendan McClary, Infielder, Gonzaga University
· Zach Pettway, Starting Pitcher, UCLA
· Austin Pinorini, Catcher/Utility, Gonzaga University
· Arman Sabouri, Relief Pitcher, Cal-Berkeley
· Kyle Stowers, Infielder, Stanford University
· Josh Zavisubin, Relief Pitcher, University of Puget Sound