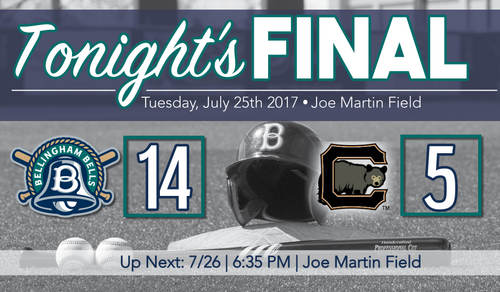 07/26/2017 9:25 AM
Hot hitting was seen at Joe Martin Field Tuesday night, as the Bells beat Cowlitz 14-5 in the first game of the series. Austin Shenton led the way for the offense as he went 3-for-3 with two walks on the day to raise his league-leading average to .414.
He started the scoring with an RBI-double to score Brendan McClary in the bottom of the first inning. He came in to score on a Chase Illig sacrifice fly.
In the bottom of the third, the Bells responded by a two-spot from the Black Bears in the top of the third with four runs of their own. Brock Anderson, a recent addition to the club, drove in his first 3 RBI's of the season with a bases-clearing double.
The beautiful shot to left-center drove in Austin Pinorini, McClary, and Shenton, who all walked. Kyle Stowers then singled in Anderson to put the Bells ahead by four.
In the bottom of the fourth, a wild pitch and a Kyle Stowers bloop single scored two more runs to make it 8-4, setting the table for a big bottom of the sixth inning.
The Bells exploded to score six runs in the bottom of the sixth inning. Austin Shenton singled in Brendan McClary to score the first run of the inning. Stowers followed that up with a double after fouling off four straight pitches that scored Shenton.
The Bells then worked four straight walks to score a run before Pinorini cleaned the bases with a double deep to center field.
That finished the scoring for the Bells, as they moved one game closer to first place in the second half, and therefore a playoff berth.
The Bells play again tomorrow night at 6:35 p.m., looking to secure a series win with Opening Day starter Merle Rowan-Kennedy on the mound. He looks for his first win of the season despite being a solid member of the staff this season.