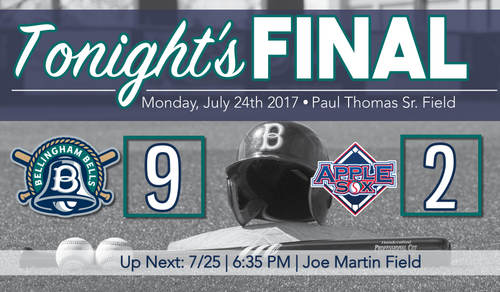 07/24/2017 9:25 PM
Bellingham won the game 9-2.
Illig is only a week removed from the winning the WCL Home Run Derby in Yakima Valley and being selected as the starting catcher for the WCL North Division team.
He has been a tear as of late, hitting six home runs in the last five games, including two multi-homer games. He started off the game tonight with another first-inning home run to put the Bells ahead 3-0.
Second baseman Brendan McClary and third baseman Austin Shenton reached on a single and a walk to set the stage for Illig's blast.
Illig earned the fourth RBI of the game as well, doubling in Brendan McClary who reached on a single in the top of the third. Illig came around to score on a Max Flower single to make the game 5-0 after three innings.
In the sixth inning, Colin Ridley worked a one-out walk, and moved to third on an error by the AppleSox third baseman on an Ernie Yake single. After McClary walked to load the bases, Shenton scored two runs on a single to make the game 7-1.
Illig was intentionally walked, and Max Flower singled in a pair of runs of his own to put the game at 9-1 and finish off the scoring for the Bells.
Tristan Garnett (1-0) earned a no-decision in his start, giving up two earned runs over four innings. He allowed just three hits and struck out four.
Josh Zavisubin (2-0) earned the win, pitching three perfect innings of relief, striking out one. He inherited a sticky situation, with the bases loaded and no outs in the bottom of the fifth, but escaped without a scratch.
New Bell Tanner Van Lith and closer Luke Manuel finished off the game in the eighth and ninth innings, not giving up a run for the final six outs of the game.
The Bells return to action at Joe Martin Field tomorrow night playing at 6:35 p.m. against the surging Cowlitz Black Bears. Join the Bells for the final $2 Tuesday of the season!