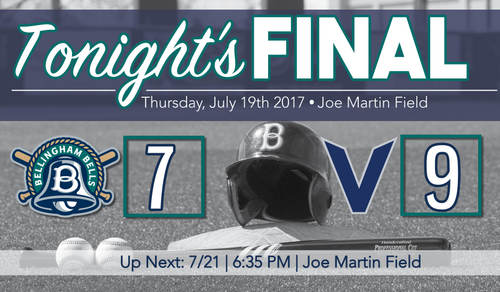 07/21/2017 10:59 AM
The Bells were defeated after an exciting back-and-forth game with the Victoria HarbourCats, eventually falling 9-7.
The HarbourCats had a huge first inning that seemed to put the game out of reach, with five batters reaching to lead the inning. Victoria landed themselves with a 5-0 lead to finish of the first, while adding another in the top of the second inning.
However, the Bells came to play a ballgame tonight. The first seven batters reached for the Bells in the bottom of the third inning. Colby Barrick led off the inning with a solo home run to deep right field, his first of his Bells career.
Brendan McClary, Austin Pinorini and Ernie Yake then followed him with a trio of singles, Yake's a bunt. Austin Shenton, the leading hitter in the West Coast League, laced a double for two runs. The ball bounced over the left-fielder's head, allowing the runners to score.
Chase Illig then slapped one to score Yake and make it 6-4. Kyle Stowers then hit a ground ball in the perfect location, catching everyone off guard and leaving first base unoccupied. The play let Shenton score to make it 6-5, and end the scoring for the inning.
Illig followed up his single with a monster two-run jack to put the Bells ahead for the first time in the night, a 7-6 lead. However, the HarbourCats quickly tied the game up following an error, an intentional walk, and a single. Then, in the top of the sixth, they claimed a run on a passed-ball, the final run scored of the game until a solo home run in the top of the ninth for Victoria.
Starter Merle Rowan-Kennedy (0-3) struggled through the first two innings, giving up six runs before settling into a rhythm. He ended the day with 4.1 innings thrown, and allowed seven runs.
Chandler Greenfield (0-0) pitched an inning and gave up a run, taking the loss. Trevor DeLaite (3-2) and Josh Zavisubin (0-0) each had longer outings. DeLaite pitched 1.2 scoreless innings and notched two strikeouts, while Zavisubin pitched two full innings, giving up the solo shot.
The Bells try to make up some ground quickly tomorrow with the final game against Victoria at 6:35 p.m. at Joe Martin Field.