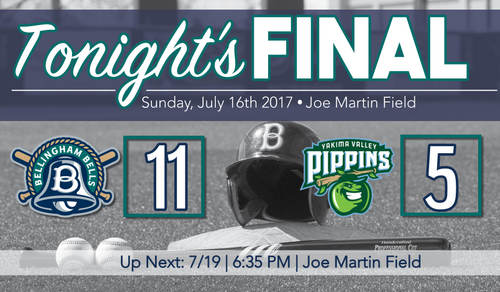 07/16/2017 5:08 PM
The Bells exploded for 10 runs in the first four innings, as the Bells claimed the series win with a 11–5 win over the Yakima Valley Pippins. The bats, relatively quiet over the first two games of the series, opened up for 15 hits.
A Chase Illig home run started the festivities in the bottom of the first, as he scored Austin Pinorini, who reached on a walk two batters earlier. The Bells kept it going with another trio of runs in the bottom of the second. A bases-loaded sacrifice fly from Ernie Yake made it 3-0, and Pinorini laced a 2-RBI double to put the Bells ahead by five.
In the bottom of the third, the Bells added another four runs. Kody Matthews jacked a two-run homer remarkably deep over the left-field fence into the parking lot. He went 2-4 with 2 RBIs a day after going 4-5.
A pair of doubles from Yake and Pinorini made it 9-0, before a Colin Ridley single made it 10-0. The Bells were held scoreless for the first time of the game in the fifth inning, but a Ryan Mendoza RBI-single in the bottom of the sixth made it 11-0.
Start Zach Pettway (2-0) had a very economical performance for the first 5.2 innings of his 6-inning outing, giving up just five hits through the first 17 outs, before giving up three runs before recording his final out. He earned a quality start on the day.
Tommy Paul (0-0) of Oregon State University pitched the seventh, giving up two runs, before Josh Zavisubin (0-0) pitched the scoreless eighth and ninth innings.
Tomorrow, the five Bells named to the WCL North Division All-Star Team head to Yakima to participate in the All-Star Game. Catcher Illig, infielders Yake and Shenton, and pitchers Pettway and Holden Powell will make the journey, with Illig also participating in the home-run derby.
The Bells will resume WCL play on Wednesday night at home with a three-game series against the Victoria Harbourcats. First pitch Wednesday will be at 6:35 p.m., at Joe Martin Field.