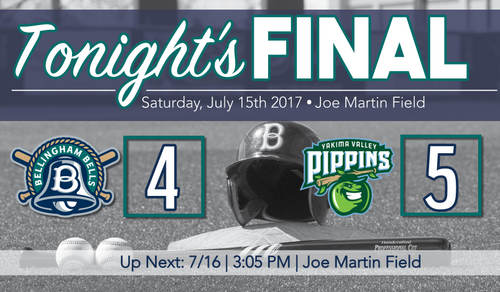 07/15/2017 9:15 PM
The Bells fell to the Yakima Valley Pippins 5-4 in the middle game of the first home series of the second half.
The Bells took an early lead in the game on an Austin Shenton sacrifice fly in the bottom of the first. Ernie Yake had an infield single to start the game, and was moved to third on a Kody Matthews double.
Matthews had a great day at the plate, going 4-for-5 with a trio of singles in addition to the double.
The visitors reclaimed a lead quickly in the top of the second, putting two across to get the score to 2-1. They added another pair in the top of the sixth on a single, fielders' choice, and a double made a 4-1 game.
The Bells took the lead back from the Pippins in the bottom half of the frame. Three straight singles off the bats of Matthews, Kyle Stowers, and Shenton loaded the bases. Good eyes benefitted the Bells, as Dean Lawson and Ryan Mendoza walked consecutively to pull the game within striking distance at 3-4.
Pinch-hitter Chase Illig then hit a dribbler up the first base side that was slow enough to score the runner to put the Bells even at 4-4.
Yakima Valley, however, finally took the lead back for good in the top of the eighth inning, as a single and a sacrifice bunt set the stage for an RBI single. Trevor DeLaite (3-2) took the loss as he pitched the eighth and ninth innings. Despite giving up the run, he managed to work his way out of a jam and limited the damage to just one run.
Holden Powell (4-2) started and earned a no-decision, his first of the season. He added to his team-leading 31 strikeouts, went 4.2 innings and gave up two earned runs in the game.
The Bells had a comeback effort squashed in the bottom of the ninth. Austin Pinorini pinch-hit and nailed a single. Yake bunted him to second, and Kody Matthews singled him to third before getting thrown out trying to get back to first.
The Bells will be back in the rubber game tomorrow afternoon at 3:05 p.m. at Joe Martin Field, before five Bells take the trip to the All-Star game in Yakima on Tuesday.