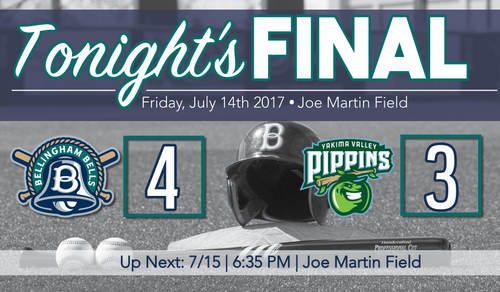 07/14/2017 8:43 PM
A pair of home runs put the Bells on top in their first home game of the second half.
In the first inning, catcher Austin Pinorini smashed a no-doubter to right fielder for his first home run of the season to put the Bells ahead 1-0. Kyle Stowers had his own home run deep to left field, clearing in the netting and landing in the parking lots to put the Bells ahead, 3-2.
The home run was Stowers' second RBI of the night, as he followed up the Pinorini homer with an RBI double that scored Chase Illig, who reached on a single.
Despite the big hits, it was small ball that put the Bells ahead for good. With Illig on third and Shane Hanon on first, Colby Barrick laid down a picture-perfect bunt up the line. The pitcher bobbled it, and Barrick beat out the throw to allow Illig to score the go ahead run.
The crowd went wild, and for Barrick's first home game, the roar was a great surprise.
"That was surreal, knowing we have that many fans that support us is a really great feeling," Barrick said.
Closer Luke Manuel earned his fourth save on the season, getting a strikeout. The right-hander worked his way into a two-out jam, allowing two singles and a walk to load the bases. He finally got a deep fly ball to end the inning and work his way out of trouble.
Tristan Garnett (1-0) looked good in his first career start for the Bells after four relief appearances. The 6-6 right-handed pitcher out of Oregon State University threw 4.1 innings and gave up just one earned run, while striking out two batters.
Pinorini almost had his second home run of the night in the bottom of the seventh, as a deep drive to left field was caught with the left fielder's back against the fence.
Arman Sabouri (3-0) threw 1.2 innings of scoreless relief and collected the win. The lefty looked sharp, as he has evolved into one of the premier relievers on the Bells squad. He has given up just two earned runs in his last 14 innings on the mound for Bellingham.
The Bells look for their second game of the series and try to get back to .500 in the second half. They play at 6:35 p.m. at Joe Martin Field.