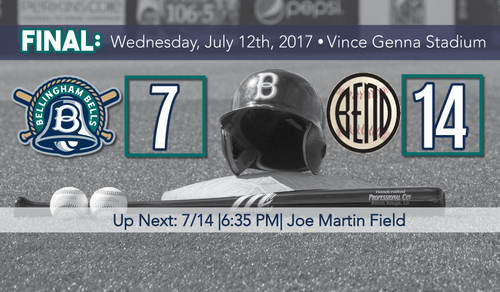 07/12/2017 10:43 PM
Austin Shenton continued his hot hitting, snagging three hits as the Bells were swept by Bend in the final game of the season series, 14-7. The sweep ties the season series, as the Bells swept the Elks at home earlier in the season.
Shenton and Chase Illig both had three RBIs to match their three hits and Luke Manuel pitched a scoreless ninth to provide the bright spots Wednesday. The offense also put together thirteen hits.
The Bells took an early lead in the game, as all of Illig's RBIs came in the first inning on a three-run home run. Outfielder Colby Barrick and infielder Brendan McClary both singled in the next inning before a Shenton single knocked them both in.
Trevor DeLaite (3-1) took the loss in his first rough outing of the season. He gave up five earned runs in his 1.1 innings after allowing just three all season. Craig Grubbe (1-0) earned his first win of the year for Bend despite allowing six runs, four of them earned.
The Bells look to get back on the right track with a home series against the Yakima Valley Pippins at Joe Martin Field Friday night, at 6:35 p.m. before the All-Star Game in Yakima. The Bells will have five players in attendance, the most of any team in the North Division.