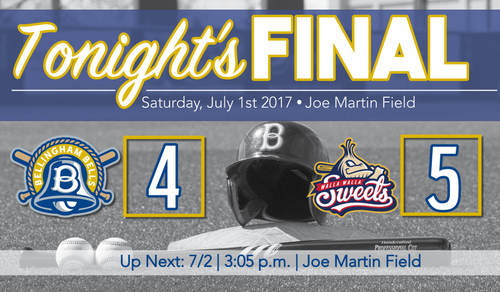 07/01/2017 9:39 PM
A trio of home runs weren't enough and the Bells dropped another tough one against the Walla Walla Sweets Saturday night, as the middle game of the series slipped away 5-1.
Max Flower and Kyle Stowers provided all the power for the Bells on Friday. Flower, the right fielder from Cal, crushed two to the opposite field fence, putting the first and second runs on the board for the Bells in the second and seventh innings. Stowers pulled his, launching a laser shot into the trees beyond the right field fence.
The Bells had a potential comeback rally turned away in the eighth inning, as they loaded the bases up for Kyle Stowers with one out before he was hit in the back to make the score 5-4. Shane Hanon came up with the bases still loaded and the go-ahead run in scoring position, but he struck out, as did Evan Hurn following him.
Holden Powell (4-1) lost his first game of the season and for the first time, gave up more than three hits in an outing, his shortest of the year. He has been stellar for the Bells so far this year, coming into the game with a 1.30 ERA and more strikeouts than innings pitched.
It was the fourth inning that undid the Bells, as three runs managed to get across after a pair crossed in the first two innings.
Tanner West, Zach Grech, Merle Rowan-Kennedy, Tristan Garnett, and Josh Zavisubin all came out and threw scoreless relief today. Rowan-Kennedy in particular was a surprise to see out in the eighth inning, as the big right-hander was the opening day starter, and has not seen any action out of the bullpen this year. He looked solid, throwing an inning and notched a pair of strikeouts while not allowing a baserunner.
Grech ran his scoreless streak to 4.1 innings, starting his Bells career strong. West threw a couple of innings to make his Bells regular-season debut, as he threw an inning in a non-league game earlier in the week. Garnett and Zavisubin came out to finish the game, shutting the door in the ninth.
The Bells take on the Sweets in the final game of the home series tomorrow afternoon at 3:05 p.m. at Joe Martin Field. They will then travel to Walla Walla to continue the six-game series with the Sweets.