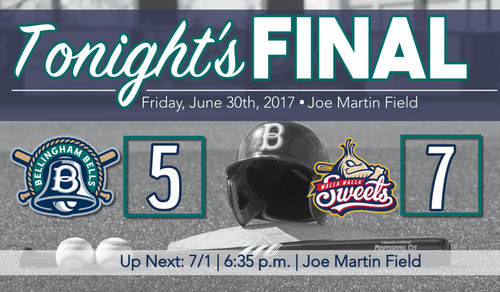 06/30/2017 9:06 PM
The Bells fell to the Walla Walla Sweets 7-5 on a night where their defense cost them despite a big early lead.
The loss stings a little more as the team enters its final five games of the first half of the season, trailing Kelowna in the North Division by a game now, tied with Walla Walla for second place.
Chase Illig, the catcher from West Virginia University, started the game off with fireworks as he crushed a three-run home run over the right field fence. It was a towering blast that was set up by an Ernie Yake single and a Dean Lawson hit-by-pitch, and put the Bells ahead 3-0.
Ernie Yake's single was the first of his three for the night. Yake has been on absolute fire, having gone 14-23 in the last week or so, hitting at a .603 clip. In addition to the hot hitting, Yake's glove is one of the finest on the team out at shortstop.
The Sweets used some quality hitting and at-bats in order to tie the game at 3-3 with a pair of runs in the fourth and a run in the fifth, but the Bells did not let it last long.
In the bottom of the fifth inning, the Bells loaded the bases on another Yake single, an error and a walk for Austin Shenton. Shenton hit a grounder to first that resulted in a fielders' choice, and Yake came around for his second run of the game. The play gave the Bells a 4-3 lead.
A late comeback put the Sweets on top for the first time of the night. They took advantage of a few errant throws and pitches to move runners into scoring position and executed, scoring four runs to make the game 7-4.
The Bells found a breath of life in the bottom of the eighth, as Hanon walked, advanced to second on a grounder, and scored on a Brendan McClary single. McClary's drive made it a 7-5 game, but was the closest the Bells came.
The Bells continue their series with the Sweets tomorrow night at 6:35 p.m. at Joe Martin Field, looking to reclaim the lead in the North Division.