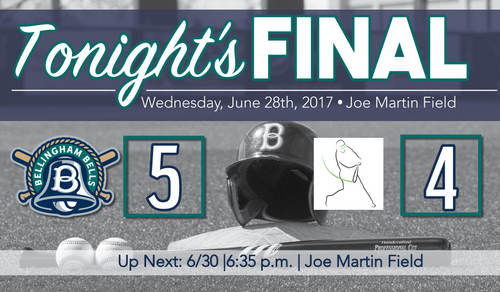 06/29/2017 8:52 AM
The Bells came back in dramatic fashion, with two late-inning clutch hits to defeat the Seattle Wallbangers 5-4.
The Wallbangers, of the Northwest Collegiate League, took a 4-0 lead over the Bells in the top of the fifth inning, and the Bells needed every inning of this game to chip away at the lead and take the win.
In the bottom of the fifth, Colin Ridley responded with a leadoff home run on the first pitch of the at-bat he saw. It was crushed out to right field, a no-doubter off the bat.
Evan Hurn hit an RBI ground-rule double to make it 4-2 in the seventh inning, as he scored Ryan Mendoza, who himself had a double to lead off the inning. A pair of walks loaded the bases for second baseman Dean Lawson, who had a sacrifice fly to left field to score Hurn.
The Bells almost had another pair of runs, but the Wallbangers' center fielder made a fantastic diving grab to rob Chase Illig of a bases-loaded hit.
Kyle Stowers had a great clutch ball hit just over the head of the shortstop, and the Bells managed to tie it up but were turned away in the ninth.
That set the stage for a dramatic walk-off win, as the Bells managed to load the bases with no outs for Hurn. He took advantage of the outfielders' shallow positioning, as he ripped one over the head of the right fielder and was mobbed by his teammates out in shallow right field to the delight of the home fans.
It was a staff day for the Bells pitchers, as there were nine pitchers who took the mound. The two last pitchers looked the cleanest was the last two, Tanner West and Trevor DeLaite. West threw a scoreless eighth, striking out the side and DeLaite hurled the last two innings to earn the win, getting four strikeouts. Both Bells faced the minimum.
The Bells return to WCL action on Friday night, playing the Walla Walla Sweets as they finish the final six games of the first-half of the season. They play at 6:35 p.m. at Joe Martin Field.