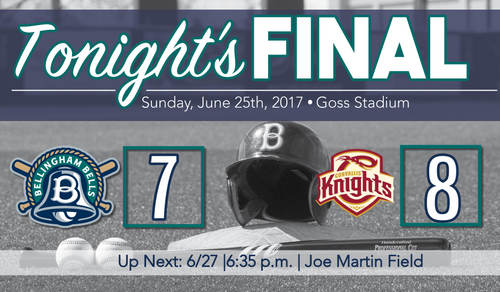 06/26/2017 11:55 AM
Starter Zach Pettway (1-0) gave up three runs, though just one was earned, as a dropped third strike in the first inning allowed two runners to score unearned. Keenan Lum (0-2) took the loss for Bellingham, giving up three earned runs over his two innings of relief.
The two runs that scored in the first gave Corvallis their first lead of the game, but Bellingham took it back after scoring a run each in the second, third, and fourth innings, with an Ernie Yake single being the one that gave Bellingham their first lead.
Corvallis tied it up right away with a run in the bottom of the fourth, but Bellingham answered in the top of the fifth, as a two-out Dean Lawson single scored Austin Shenton and Chase Illig to make it 5-4.
Bellingham then gave up five runs over the next two innings to put them down by three runs. An eighth-inning rally for Bellingham fell just short, as a two-run single by Shenton cut the lead to one before the door was closed on the Bells in the ninth inning.
Bellingham's hot hitters continued to lead the way for the top hitting offense in the WCL. Austin Shenton, Ernie Yake, Max Flower, and Dean Lawson all got RBIs in the game, with Shenton and Lawson each grabbing a pair.
The series saw the return of catcher Ryan Mendoza. The Long Beach State University product took a foul pitch to the hand that caused concerns of whether or not he could stick around for the summer, but he returned to full action Sunday after pinch-hitting Saturday.
The Bells continue their summer with two non-league games on Tuesday and Wednesday against the Rainer SnowCaps and the Everett Merchants. Both games start at 6:35 p.m. at Joe Martin Field.