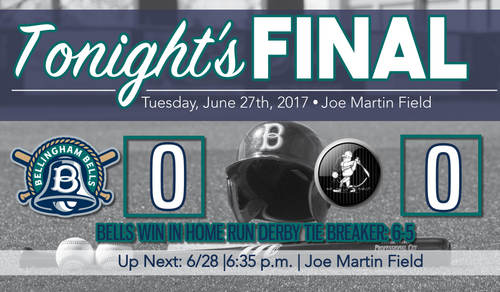 06/28/2017 10:29 AM
The Bells returned to Joe Martin Field on Tuesday for non-league action, facing the Everett Merchants in front of a packed home crowd. The matchup with the Pacific International League squad became quite the pitchers' duel, as a scoreless game carried into the bottom of the tenth inning.
Rogelio Reyes started the game for the Bells. Reyes, combined with Merle Rowan-Kennedy, Cooper Misic, Tristan Garnett, Tommy Paul, Luke Manuel and Josh Zavisubin, combined for a two-hit performance on the day.
After a scoreless nine innings for both teams, the Bells had a great chance to win the game in the bottom of the tenth inning with a Chase Illig single and a wild pitch to move him to second base, but couldn't bring him home.
Given the non-league nature of the game and a mutual agreement from both teams that saving pitching was a priority, the decision was made at the end of ten innings to transition to a home run derby format to decide the contest. Both teams were given three batters & ten outs in the derby, which saw each team put up five home runs. Each team was then given three more outs.
In the sudden death portion of the derby, the Merchants couldn't come up with a home run. Catcher Chase Illig then crushed a home run to right-center to end the derby on its very last pitch, giving the Bells the victory in the non-league contest.
The Bells will continue non-league play on Wednesday, facing the Seattle Wallbangers at 6:35 p.m.