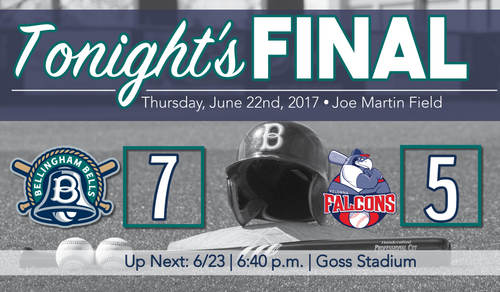 06/22/2017 9:22 PM
Kyle Stowers was the hero in his Bells debut, leading Bellingham to a 7-4 win over the Kelowna Falcons in dramatic, come-from-behind fashion.
Stowers came in clutch twice for the Bells as they held off a sweep by the Falcons. Stowers' first hit of the game tied the game up on a monumental slam to right field, clearing the fence by at least twenty feet.
Then, in the bottom of the eighth, with Kody Matthews having stolen second, Stowers ripped a double that scored Matthews easily and let him cruise into second.
"It was super cool, and everyone was just giving me high-fives and love, it just shows you the kind of guys that Bellingham gets," Stowers said.
Ernie Yake followed with a double that scored Kody Matthews and Evan Hurn to make the score 7-4.
Josh Zavisubin, who came in to pitch a scoreless eighth inning, then came in and pitched the final frame, earning the win for the Bells after allowing one run.
The game moved at a very quick pace for the first five innings, with Kelowna getting two hits through the fifth while Bellingham collected two. The Falcons struck first, with a no-doubt home run to deep left that put them ahead 1-0 in the fifth inning.
The game slowed down after that, as the Falcons scored a run on a bloop single that fell in no-man's land, and made it 2-0 in a laborious inning for the Bells. The Falcons scored another pair of runs in the inning on a couple errant throws that eliminated a double-play opportunity and an RBI single.
The Bells responded to the Falcon's three-run sixth inning with a three-spot of their own. Two home runs were hit, one off the bat of Evan Hurn, a solo shot for his first of the year, and Austin Shenton had his second of the season. Shenton's blast scored Austin Pinorini and drew the Bells within one. Stowers' blast then put them ahead for good.
Merle Rowan-Kennedy (0-0), the big right-handed starter for the Bells, looked very sharp in his outing, allowing just one run in his five innings of work.
The Bells move on to face Corvallis, the South leaders, with a game Friday night starting at 6:40 in Corvallis. They return to Bellingham to play a non-league game against the Everett Merchants on Tuesday.