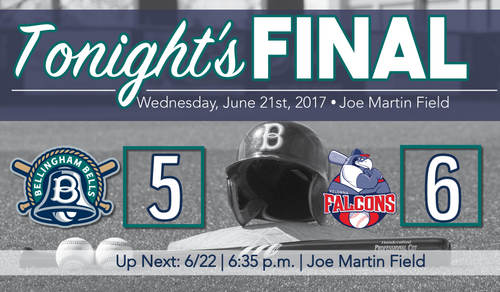 06/21/2017 9:19 PM
The Bells took a very difficult loss, completing a comeback but overall losing the game to the Kelowna Falcons 6-5.
It was Kelowna who got it started with a trio of runs in the fourth inning off of starter Tyler Radcliffe of Long Beach State University. In his Bellingham debut, Radcliffe looked sharp, giving up the three runs but notching seven strikeouts.
The Bells answered back in the bottom of the fifth. Evan Hurn, Brendan McClary, and Ernie Yake all singled in succession to load the bases for Dean Lawson. Lawson answered with a single of his own to knock in Hurn for the Bells first run. Austin Shenton then swatted a sacrifice fly to make the score 3-2.
Connor Sage, the Squalicum High School lefty, came in to throw a scoreless sixth inning in relief. Sage has yet to allow a run in his three appearances on the season, throwing four innings without allowing a run.
Trevor DeLaite saw his league-leading scoreless streak come to an end at 9 innings, as he gave up one RBI single that put the Falcons ahead at 4-2.
But the Bells weren't done, and fought back in the bottom of the seventh inning. Lawson and Pinorini walked, and a wild pitch put them in scoring position. Chase Illig came in to pinch hit, and he ripped one to left that scored both the runners to tie it up 4-4.
Yake, who went 3-4 on the day, is not known as a power hitter, but he mashed his first one that just got over the right field fence to put the Bells out in front after trailing the entire game. In that bottom of the eighth, Yake put the Bells ahead 5-4.
The lead did not last, as Luke Manuel came in to pitch the ninth and had it slip away. Manuel gave up a pair of runs before collecting the third out of the inning to let the Falcons go ahead.
The Bells are back in action for the series finale tomorrow night, at 6:35 p.m. at Joe Martin Field, before hitting the road to Corvallis the next day.