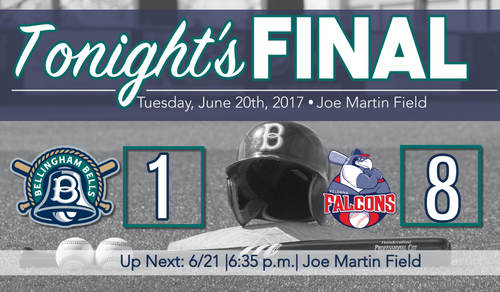 06/20/2017 8:48 PM
The Bells saw a 7-game winning streak come to halt against the Kelowna Falcons Tuesday night, as they fell 8-1.
Max Flower provided the bright spot for the Bells, as he lined a no-doubt home run over the fence in right field for the only run support provided to the Bellingham pitching staff.
Starter Rogelio Reyes (0-2) had a very smooth first three innings, giving up just one hit, before giving up a pair each in the fourth and fifth innings. The damage was done by an RBI single, two RBI doubles, and a fielders' choice.
Keenan Lum (0-1) came in and gave up one run in his two innings of relief on an RBI double.
Arman Sabouri came in in the top of the seventh inning and notched a pair of strikeouts. He gave up an unfortunate run, as a runner trying to steal third was beat by the throw, but his cleat knocked the ball into the dugout. That scored the runner, and the runner on second was scored on the next pitch on a ground-rule double. The next hitter got another double and that runner scored as well, making the score 8-0.
The Falcons got it done by chipping away here and there, scoring two each in the fourth and fifth, a run in the sixth, and a three-spot in the seventh.
David Stealy finished the game off, pitching a scoreless eighth and ninth innings, and looked sharp, notching a strikeout. He was the only pitcher to not give up a run for Bellingham.
The Bell and Falcons are now tied for the top of the North Division at 10-6 each. The final two games of the series will be Tuesday and Wednesday nights at Joe Martin Field, and start at 6:35 p.m.