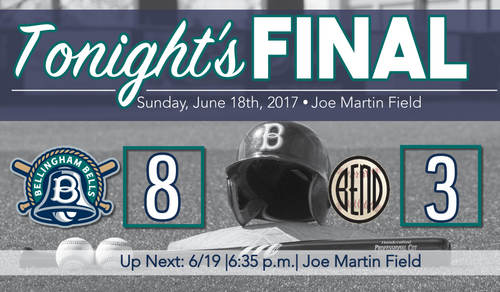 06/18/2017 5:30 PM
A Bells again had plenty of offense, getting 10+ hits for the second straight night, winning 8-2 in the second of a three-game series with the Bend Elks.
The Bells broke open what had been a very close game in the bottom of the sixth inning, breaking the 1-1 tie in place since the second inning. Ernie Yake of Squalicum High School laid down a masterpiece of a bunt, popping it over the charging pitcher before Dean Lawson moved him to second with a bunt of his own.
That set the stage for Austin Shenton, who has been on an absolute tear since the beginning of the season. He crushed a double down the left field line that easily scored Yake, who had stolen third just a pitch before. Chase Illig then did it again, scoring Shenton on his own double to left field.
Center fielder Shane Hanon worked a walk before Kody Matthews lined a single out to center that scored Illig easily. Finally, Colin Ridley crushed a double out to left-center that scored Hanon and Matthews to make it 6-1 for the Bells, ending a huge inning for Bellingham.
Jimmy Boyce (1-1) had some troubles with the dirt on the mound and locating, but overcame the struggles to give up just one hit over his four inning start. He gave up just one run in the first inning, and that was the extent of the damage as he gave a gritty, professional outing for Bellingham.
Catcher Chase Illig gave Boyce his only run support of his outing in the bottom of the second inning, as he barreled up a fastball and sent it towering over the opposite-field fence. The feat is especially impressive in Joe Martin Field, a field known for being difficult to hit home runs in.
Lefty Zack Noll (1-0) came in for his first appearance of the season and looked dominant on the mound. He struck out the side in his first inning and worked another scoreless frame. His fastball was looking very lively, with a good velocity and sharp movement.
Trevor Delaite (1-0) worked another pair of frames. He maintained his scoreless streak that's been going since the start of the season, running it out to 8.1 innings, the longest on the team.
In the bottom of the eighth inning, the Bells made a claim for some insurance runs, as Ridley doubled, Brendan McClary singled him in, and Yake singled McClary in just after to make it an 8-1 score.
Closer Josh Zavisubin came in, and gave up a pair of run sin the final frame while also notching a strikeout to secure the win for Bellingham.
The Bells will go for the sweep tomorrow night at Joe Martin Field, finishing up the series against Bend before hosting the Kelowna Falcons starting Tuesday night.