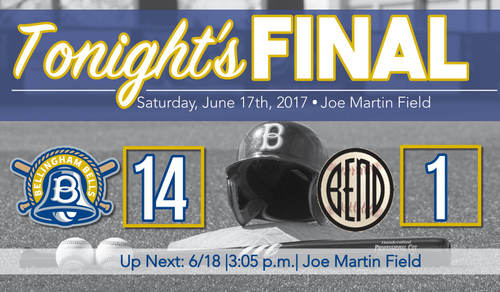 06/17/2017 8:51 PM
The Bells absolutely exploded in their first game of the series against the Bend Elks, led by designated hitter Austin Shenton. They won 14-1, as Shenton reached base five times in the game with five RBI's.
The highlights of the game had to be Shenton's first home run of the season and Chase Illig's grand slam, as they both clobbered one deep over the right field fence. Scoring on the Shenton swat in the first inning was Austin Pinorini, who reached on a sweet single to left field, while Chase Illig knocked in Shenton, Pinorini, and Hanon on his grand slam in the bottom of the seventh inning.
Shortly after Shenton's home run, Kody Matthews, new Bell, scored Ryan Mendoza on a single to make the game 3-0.
In the bottom of the second, Ernie Yake laid down a perfect bunt, Pinorini was hit by a pitch, and Shenton was pitched around to load the bases for Ryan Mendoza. The result? A two-RBI single pulled through the gap by the catcher, and a 5-0 lead for Bellingham.
The next inning up saw another four runs for Bellingham. Kody Matthews hit a great double, before Evan Hurn and Brendan McClary walked to load the bases for Ernie Yake. Yake slapped a single to score a run, before Pinorini was hit by another pitch to move a run in. Shenton knocked another pair in with a double to left-center field to make it a 9-0 lead.
Seventeen-year-old Holden Powell (3-0) had another very strong outing for the Bells, making his case as the best starter for the club this season. So far on the season, he has thrown 15 innings, and has still only given up one earned run. Powell can boast a 0.60 ERA now for the season and 12 strikeouts after racking up another handful today.
Keenan Lum, Arman Sabouri and Josh Zavisubin came in to throw a total of four innings of scoreless relief, limiting the Elks to two hits through them. Lum came into throw a scoreless sixth, while Sabouri had a great outing, notching three strikeouts through two innings. Zavisubin gave up a leadoff double before striking out the next two batters and getting a grounder to end the game in the ninth.
The Bells play the Elks again at 3:05 p.m. on Sunday Fun Day, and a special Father's Day game. Spend the holiday with your family here at Joe Martin Field!