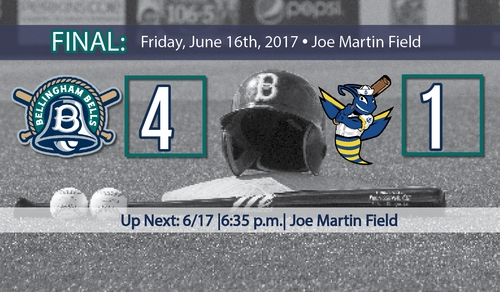 06/16/2017 8:00 PM
A pair of errors by the BlueJackets' shortstop in the first inning gave them the go-ahead run, as an Austin Shenton grounder failed to be converted into a double play, and Ernie Yake scored. The throw was wide, after the first play of the game was a Shane Hanon grounder that got thrown high and allowed him to reach first.
Starter Merle Rowan-Kennedy shut the BlueJackets down for his time at the mound, throwing three perfect innings, before being replaced by Cooper Misic.
The BlueJackets struck back in the top of the fourth, with a single and a double that scored one off of Misic.
Bellingham quickly tied it up again in the bottom of the frame. Dean Lawson got hit by a pitch and an error allowed him to advance to second. A passed ball moved him to third before Ryan Mendoza slapped one the other way to score him.
In the next inning, they took the lead right back. Yake drew a walk before stealing second to get in scoring position for an Austin Shenton blast out to right, one-hopping onto the fence.
Shenton did it again in the bottom of the eighth inning, this time driving in Austin Pinorini on a triple to nearly the same spot. Shenton is currently leading the WCL with an absolutely blistering .528 batting average.
Shane Hanon and Shenton flashed their leather in the outfield, each making multiple excellent defensive plays to save their pitchers some hits. In particular, Hanon had one long run deep into the left-center gap before catching it over his shoulder.
Luke Manuel came in to close the game,
The Bells play next Saturday night, as they begin a three-game series against the Bend Elks at Joe Martin Field. First pitch will be at 6:35.