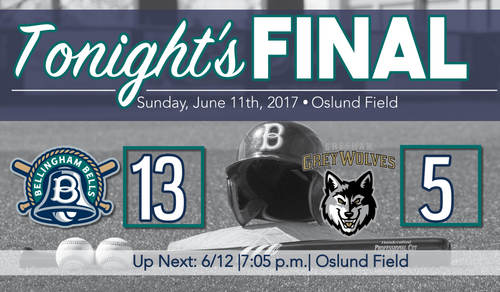 06/11/2017 9:34 PM
Colin Ridley entered Sunday's game at Gresham with two runs batted in on the season. By the end of the Bellingham's 13-5 win, Ridley had two homeruns and four runs batted in the game.
Bellingham (5-5) scored five runs in the first inning, three in the ninth inning and many more more in between, using three long balls on the afternoon to defeat the GreyWolves, including two of the bat of Colin Ridley.
Bellingham scored five runs in the first, with Austin Pinorini singling home Ernie Yake, and following an Austin Shenton walk, the bases were loaded for Ryan Mendoza. Mendoza would clear the bases with a 3 RBI double and then Mendoza came around to score on a Chase Illig RBI single to cap the five run frame.
Jimmy Boyce (1-1) earned the win for Bellingham, tossing five and two-thirds innings, allowing three runs and fanning five. Boyce did not allow a hit through 4 innings for the Bells.
Ridley hammered the first of his two homeruns in the fifth inning for the Bells, a two run blast over the centerfield fence to increase the Bellingham lead to 7-0
Gresham responded with a five run bottom of the sixth to cut their defecit to 7-5. Bellingham answered the call in seventh, eighth and ninth innings, scoring six unanswered runs to close the game.
Ridley's second homerun of the day increased the Bells lead to 9-5, and Evan Hurn scored an unearned run in the eighth to pad the Bells lead to 10-5.
Bellingham native, David Stealy closed the door for Bellingham, tossing three and a third innings, allowing two runs while fanning three batters.
In the ninth, Ryan Mendoza crushed Bellingham's third homerun of the day, scoring Shenton and giving the Long Beach State product five RBIs on the day. Ridley would cap his fantastic day wth a double off the top of the wall, just missing his third homerun of the night. Ridley came into score on a Brendan McClary RBI double, finishing the scoring on a three ninth inning and 13 run game for the Bells.
Bellingham is back in action tomorrow at Gresham, first pitch is set for 6:35. Tune in on the Bells Radio Network with Tom Prizeman, online at Mixlr.com/BellinghamBells.