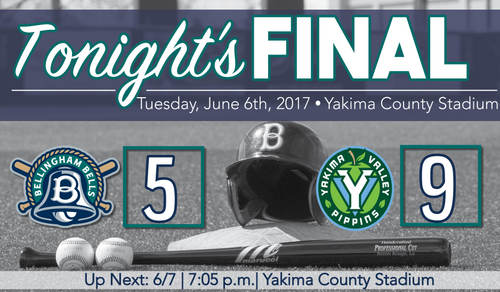 06/06/2017 11:48 PM
The Bellingham Bells (2-3) fell to the Yakima Valley Pippins (3-2) 9-5 on Tuesday Night at Yakima County Ballpark in Yakima.
Yakima scored seven runs before the Bells could get on the board, tagging Bells starter Rogelio Reyes from four runs in the first inning and three more in the third.
Reyes (0-1) tossed three innings allowing 8 hits and five earned runs, striking out to earn the loss.
Bellingham trailed 7-0 heading into the top half of the fourth. With one out, Austin Pinorini was hit by a pitch and Ryan Mendoza singled put runners on first and second. Max Flower then delivered an RBI single, bringing home Pinorini and moving Mendoza to third. With Colin Ridley at the plate, Mendoza scored on a wild pitch.
Following a two run bottom half of the fourth inning for Yakima Valley, Bellingham got one back in the sixth. Pinorini walked, Mendoza doubled to put runners on second and third. Flower then earned his second RBI of the day by grounding out to second base and bringing home Pinorini.
Yakima starting pitcher Josh Tedeschi (1-0) picked up the win, dealing six innings, allowing three runs and fanning six batters.
In the seventh inning, Brandon McClary was hit by a pitch to lead off the inning, moved to second on a balk, ninety feet closer on a wild pitch and came in to score on a Dean Lawson sacrifice fly. Bellingham trailed 9-4 heading to the seventh inning stretch.
Squalicum graduate David Stealy and Kenan Lum worked the final five frames for Bellingham. Lum hurled three innings, allowing two runs on three hits while striking out three, while Stealy worked the final two innings, not allowing a base runner and fanning two batters.
Bellingham attempted a ninth inning comeback. Lawson was hit by a pitch and took second on defense indifference and came into score on a Pinorini RBI single. Bellingham closed the gap to 9-5 but could get no closer.
Pinorini was 1 for 2 with two runs scored and a RBI for the Bells, while Max Flower drove in two runs for Bellingham.
Bellingham returns to the field tomorrow against the Yakima Valley Pippins. First pitch will be thrown a 7:05, with pre-game coverage starting at 6:45 with Tom Prizeman on mixlr.com/bellinghambells.
The Bells return home on Thursday, June 8th against the Corvallis Knights. To purchase tickets visit http://bellinghambells.com/home/ or call (367) 527-1035.