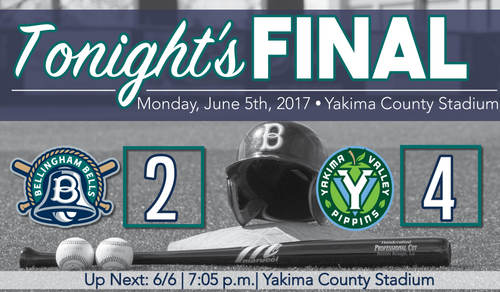 06/05/2017 9:40 PM
The Bellingham Bells (2-2) out hit the Yakima Valley Pippins (2-2) 12 to 4 on Monday night at Yakima County Stadium. But the Pippins outscored Bellingham 4-2 to pick up their second win of the season.
Bellingham left 13 runners on base, leaving the bases loaded in the first, and leaving multiple runners aboard in the third, fifth and seventh inning.
Bellingham starter Jimmy Boyce (0-1) tossed six innings allowing 4 hits and four runs, fanning five to earn the loss.
Bellingham trailed 2-0 heading into the top half of the fifth. With one out Austin Pinorini and Austin Shenton singled back to back to put runners on first and second. After a Kody Hoese popped out, Max Flower delivered an RBI single, bringing home Pinorini and pulling Bellingham to within one.
Following a two run sixth inning for Yakima Valley, Bellingham got one back in the seventh. The bases loaded the bases thanks to a Pinorini single, Shenton double and Hoese walk. Flower then earned his second RBI of the day singling home the runner. But Bellingham would get no closer than 4-2.
Squalicum graduate Connor Sage pitched the final two frames, striking out two batters and not allowing a run.
Bellingham returns to the field tomorrow against the Yakima Valley Pippins. First pitch will be thrown a 7:05, with pre-game coverage starting at 6:45 with Tom Prizeman on mixlr.com/bellinghambells.
The Bells return home on Thursday, June 8th against the Corvallis Knights. To purchase tickets visit http://bellinghambells.com/home/ or call (367) 527-1035.