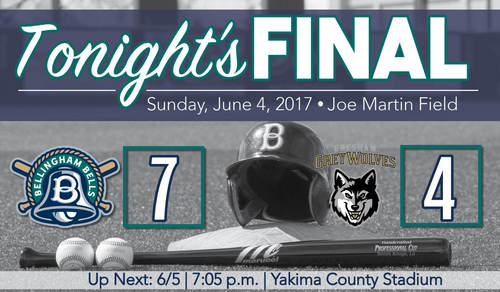 06/04/2017 5:04 PM
Bellingham claimed their first series victory of the year, winning the rubber match against the Gresham GreyWolves, 7-4, led by Holden Powell's great pitching and a big third inning
Powell (1-0) had a fabulous WCL debut, as the six-feet-tall right-hander just out of high school fanned a handful of batters in 5+ hitless innings. He turned on the heat today, touching 92 miles-per-hour in his first appearance of the season.
In the third inning, the fun started with a Brendan McClary single and an Ernie Yake bunt to put runners on for second baseman Dean Lawson. Lawson continued his torrid start to this season with a 2-RBI double deep into the right field gap, followed by a Shane Hanon rip up the middle, knocking Lawson in.
Later, a shot out to left field by catcher Austin Pinorini found its way over the head of the left fielder. On the throw back in, he spiked it into the ground a few feet in front of him, and it rolled into center field. That allowed Pinorini to get all the way around to score on his own hit and finished off a five-run inning.
The Bells struck again in the fifth inning. The Gresham shortstop, Alec DeWattville, made two errors in the inning, and a couple of wild pitches allowed Austin Shenton to cross the plate. DeWattville's first error allowed Max Flower to reach, while his second allowed Flower to score.
Gresham grabbed one back, in the sixth inning. Trevor Delaite, the lefty from Bangor, Maine, came in and gave up a run on a hit and a sacrifice fly, but managed to escape the inning without any further damage. He then cruised through the seventh inning, picking up a strikeout.
Arman Sabouri pitched a scoreless eighth, but allowed a bases-loaded double to push three across for Gresham. It was, however, too little too late, as Bellingham closed the door on the game.
They head off to Yakima now, to start a three game series there, beginning Monday night, before hosting Corvallis on Thursday night in another three-game series.