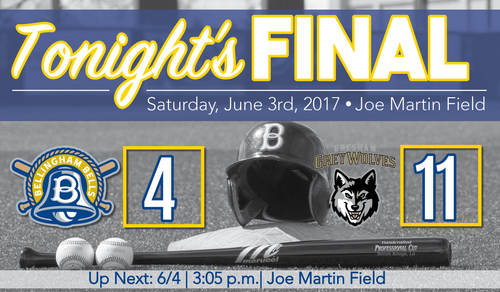 06/03/2017 9:02 PM
Two big innings for the Gresham GreyWolves proved to be too much for Bellingham to overcome, as they fell 11-4 tonight in the second game of the season.
Starter Cooper Misic had a tough outing, giving up five runs in the second inning, though just two were earned. He made it through five outs before being replaced by Chad Gideon.
Gideon threw 2 1/3 strong innings, giving up before being replaced by Kash Koltermann. Koltermann threw three innings of scoreless relief to carry the Bells through the seventh inning.
The Greywolves helped the Bells get going on offense, as centerfielder Aaron Simpson of the Gresham misplayed a line drive crushed by second baseman Dean Lawson in the third inning. That let Lawson advance to third, and scored center fielder Shane Hanon, who had a home run in last night's game.
An error by Alec DeWattville let Lawson score later in the inning on a chopper by catcher Ryan Mendoza, as the ball just slipped under his mitt and scooted into the outfield.
They carried that momentum later, mounting a comeback effort as Lawson later had a big hit through the left side of the infield that scored Hurn in the seventh to pull them within one. This came after Hoese knocked in Shenton on a liner up the middle in the sixth.
Gresham finally struck back in the eighth after being silent since that second inning, with a solo pinch-hit home run off the bat of lefty Jacob Sniffen. It came off a fastball by Luke Manuel, who, like last night, pitched the eighth inning.
The home run was the second in as many days, an odd sight in Bellingham. Joe Martin Field, with the heavy, moist air and strong wind coming off of the Bellingham Bay, is known for keeping balls in the yard.
Michael Warnick relieved Manuel in the ninth inning, inheriting two runners with no outs. A two-run double by DeWattville dug the Bells into a hole in the top of the final frame. They then gave up a run on a passed ball and a fielder's choice that made it the final score, 11-4.
The Bells finish the series tomorrow afternoon in a rubber match against Gresham at 3:05 p.m., before taking off to face Yakima Valley on the road starting Monday.