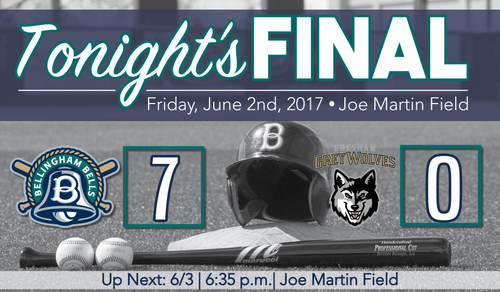 06/02/2017 9:13 PM
Center fielder Shane Hanon had a big day, leading the way for a 7-0 Bells win against the Gresham GreyWolves on opening night in front of a sellout crowd at Joe Martin Field.
The Bells took an early lead in the bottom of the first, as shortstop Kody Hoese lined a single up the middle. Hanon scored after reaching on a single to left field and stealing second base, for the first steal of the year.
Left fielder Colin Ridley got a double to right field and advanced on a picture-perfect bunted single by second baseman Ernie Yake in the top of the fifth, to set the stage for Hanon's rip out to left field. Hanon's bomb made it a 4-0 lead.
The seventh inning saw another three runs for the Bells. A two-RBI single by catcher Austin Pinorini, who, like Hanon, knocked in Ridley and Yake, while a deep sacrifice fly by Austin Shenton tacked on the final run.
The Bells got some help getting out of a jam in the top of the second. With runners on first and second, and just one out, Drew Curtis of Gresham lined a single out to right field. After the ball hit the cutoff man, the runner at second, Jacob Sniffen, took too wide of a turn and was thrown out by Rowan-Kennedy.
Rowan-Kennedy had some ups and downs control-wise Friday night, but still put in a solid performance, collecting the win. He gave up lead-off walks to begin the first, second, and fifth innings. He then hit a groove for the third and fourth inning, striking out two a piece in each of those innings.
Overall, Rowan-Kennedy notched five strikeouts, while giving up only two hits.
Stealy came in and offered 2 2/3 innings of scoreless relief, notching a strikeout. Josh Zavisubin and Luke Manuel each came in to hurl a hitless inning each. Zavisubin struck out the side in the eighth, and Manuel worked the scoreless ninth, recording two strikeouts of his own.
Bonner of Gresham started, and threw five innings of four-run ball, giving up six hits and recording six strikeouts. He took the loss.
Ward then came in and threw the last three innings for the GreyWolves, and gave up three runs, though only one was earned, as the GreyWolves' defense suffered three errors.
The Bells got to follow-up a win with a great fireworks night in front of the fans, set to music for the approximately 2,500 fans in attendance.
The Bells play again Saturday night, in the second of the three-game series against Grisham. First pitch will be at 6:35 p.m., at Joe Martin Field.