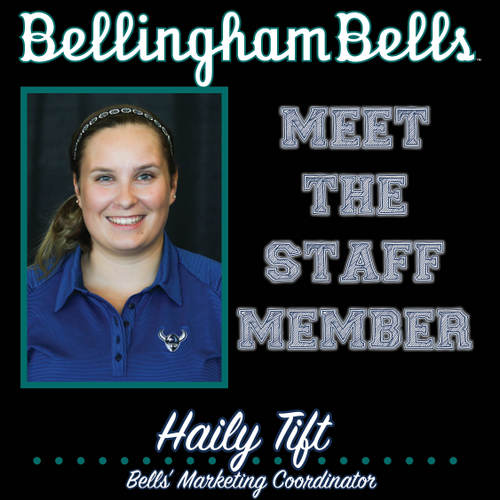 05/24/2017 10:28 AM
Ever wonder what the staff is like here at the Bellingham Bells? Check back here every Wednesday to learn some fun facts about some of our great Bells' staff members!
Haily Tift - Bells' Marketing Coordinator
This will be Haily's second season with the team, and first season as the Marketing Coordinator. She graduated from Western Washington University last June with a degree in Marketing. Previously, Haily was a part of the game day staff as the Promotions Coordinator before stepping into her new role.
Get to know Haily!
1) What is your primary job with the Bellingham Bells? I am the Marketing Coordinator for the Bells. I deal with online marketing, social media, and community outreach.
2) How many seasons have you been with the team? This will be my second season!
3) What is your favorite way to spend a baseball-free weekend? My parents live on a lake so it is fun to head there for a day or two. You can also catch me at a variety of sporting events (baseball, soccer, basketball), I love to be a fan!
4) What's the furthest you traveled away from home this offseason? I actually just got back from a trip to Kona, HI. I had never been to the big island before, it was so beautiful!
5) What is your all-time favorite sports movie? It is a three-way tie...Space Jam, The Sandlot, and Rudy.
6) 2017 players are currently being asked to select their "walk-up" song for the 2017 Bells season. What would your walk-up song be? "Say It" by Flume or anything Drake.
7) If you were putting together a rec-league softball team this spring… who's the first player (Bells, MLB, collegiate, random person) you'd add to the roster? The front office staff for sure, Stephanie and Nick, as well as Jim Clem. I would add Ichiro in there too to add some depth in the outfield.
8) What is your favorite story or memory from last season? Definitely meeting some great people and making some lasting connections. I am excited to see some familiar faces this upcoming season at Joe Martin Field!