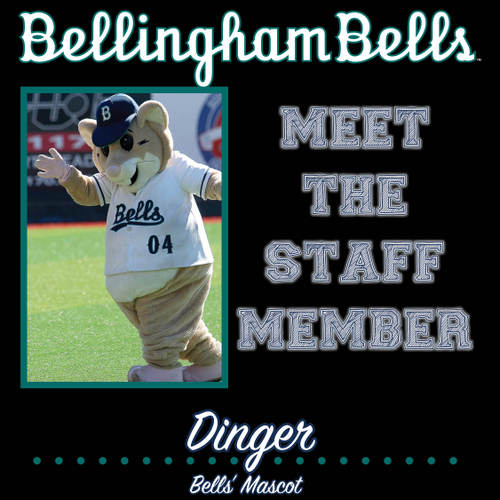 05/18/2017 8:41 AM
Ever wonder what the staff is like here at the Bellingham Bells? Check back here every Wednesday to learn some fun facts about some of our great Bells' staff members!
Dinger - Bells' Official Mascot
Dinger is the lovable hamster that is the official mascot for the Bellingham Bells. This will be his seventh season with the Bells and he loves seeing familiar and new faces all summer long.
Get to know Dinger!
1) What is your primary job with the Bellingham Bells? I am the official mascot of the Bells, or as I like to say, the OG Bellinghamster!
2) How many seasons have you been with the team? This will be season number 7! I am excited to celebrate my birthday at the ballpark this summer. I always see those kids in the party area having so much fun, I think it is my turn!
3) What is your favorite way to spend a baseball-free weekend? I have been training on my hamster wheel so I can finally win the "Run with Dinger." Either the kids keep getting faster and faster, or I keep getting slower. All I want is just one victory!
4) What's the furthest you traveled away from home this offseason? I went all the way to Ferndale a few weeks ago to visit some elementary school kids, that was far enough for me.
5) What is your all-time favorite sports movie? Definitely Air Bud or Space Jam. Animals can play sports just as well as humans, we just don't get as many opportunities.
6) 2017 players are currently being asked to select their "walk-up" song for the 2017 Bells season. What would your walk-up song be? The Hamster Dance Song. Little do people know...I was the inspiration for that song because of my amazing dance moves.
7) If you were putting together a rec-league softball team this spring… who's the first player (Bells, MLB, collegiate, random person) you'd add to the roster? I have to go with the Mariner Moose, have you seen that guy? He is really agile for an animal with four legs. But I cannot forget Jim Clem...that guy is a legend around town!
8) What is your favorite story or memory from last season? There are too many to count but probably every time Michael Jay sings the 7th inning stretch! It is a baseball tradition and it is safe to say we have the best guy for the job at our ballpark.