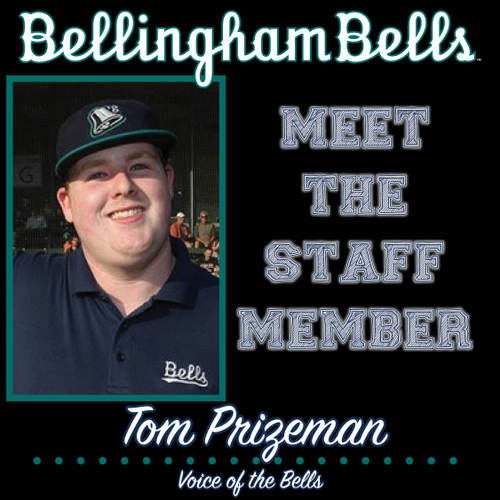 05/10/2017 2:40 PM
Ever wonder what the staff is like here at the Bellingham Bells? Check back here every Wednesday to learn some fun facts about some of our great Bells' staff members
Tom Prizeman-Voice of the Bells
1) What is your primary job with the Bellingham Bells? I am the Director of Broadcasting and Media Relations for the Bells.
2) How many seasons have you been with the team? I am in my second season in Bellingham.
3) What is your favorite way to spend a baseball-free weekend? A weekend away from baseball for me does not mean a weekend away from sports. I would definitely find time to watch games with friends and play plenty of pick up basketball. Beyond sports I am a huge movie buff, so settling down for a movie on Netflix or in the theater with some popcorn is a great way to spend my free time.
4) What's the furthest you traveled away from home this offseason? I am a New York native, growing up in Pleasantville in Westchester County, about 40 minutes north of New York City, so I have made a few trips back to the East Coast this past year to spend time with family. The rest of my year is spent in Illinois, which compared to NY, is only about 2,000 miles away from Bellingham, where I go to school at Illinois State University.
5) What is your all-time favorite sports movie?
I first saw The Rookie when I was six years old with my dad in the theater. It has been my favorite movie since then, and I hope to play my DVD on one of our many road trips with the Bells.
6) 2017 players are currently being asked to select their "walk-up" song for the 2017 Bells season. What would your walk-up song be?
My walk up song would honor one of the best to ever play the game. The song would be the theme song for Pablo "The Secret Weapon" Sanchez from the legendary Backyard Baseball video game series. Once you hear that song, there is no way you can't succeed. Check out the song here.
7) If you were putting together a rec-league softball team this spring… who's the first player (Bells, MLB, collegiate, random person you'd add to the roster?
My first pick is of course Hall of Famer Jim Clem, that is given, you need his positive personality to build team morale. Behind him I'll have to select former Bells' Assistant coach Dane Siegfried, Dane would make all the hustle plays for our team. And finally I would take New York Yankee slugger Aaron Judge, because he is 6'7 and could launch balls into orbit for our team.
8) What is your favorite story or memory from last season? Last season had so many great memories, but the first one always come to mind for me is the Bells' 12-1 playoff victory over the HarbourCats in Victoria. First playoff game in Victoria in over half a century and behind Chase Strumpf's two home runs in the first two innings, the Bells jumped out and never looked back, silencing the home crowd. Victoria was a great team, set the WCL record for wins in a season, rolled off 19 wins in a row at one point, so to sweep them in such dramatic fashion was an incredible achievement. The bus ride back to the hotel and then the beautiful ferry ride back to Bellingham were a lot of fun, everyone was excited and proud of what the club had achieved.