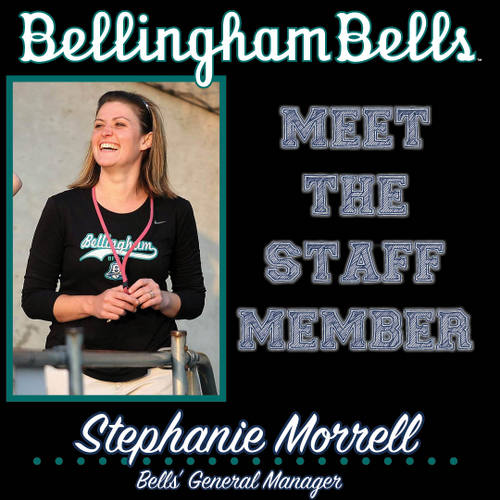 05/03/2017 8:36 AM
Ever wonder what the staff is like here at the Bellingham Bells? Check back here every Wednesday to learn some fun facts about some of our great Bells' staff members!
Stephanie Morrell - Bells' General Manager
Stephanie joined the Bells in 2013 after graduating from Western Washington University. Previously Stephanie was the Marketing Director and Assistant GM of the Bells before stepping into her current role.
Get to know Stephanie!
1) What is your primary job with the Bellingham Bells? I work in the front office as our team's General Manager, meaning I oversee the day-to-day operations of our team and franchise. I feel very fortunate to be able to work with such an amazing organization and to have met so many incredible people.
2) How many seasons have you been with the team? 2017 will be my fourth season with the Bells.
3) What is your favorite way to spend a baseball-free weekend? When I can, I love to sneak away to my parents' house in Eastern Washington for some sunshine and home cooking! If I have a free weekend in the summer, you can usually find me lying by their pool, reading a book and catching some rays.
4) What's the furthest you traveled away from home this offseason? My parents, husband & I traveled to Atlanta, Georgia at the end of December to visit my brother (who lives in Atlanta) and cheer on our UW Huskies in the Chick-Fil-A Peach Bowl. I also checked two other states off my list while I was there (NC & SC) and got to spend a day in Asheville, NC (one of my all-time favorite cities in the US!).
5) What is your all-time favorite sports movie? My top three all-time sports movies are Hoosiers, Remember the Titans and Miracle. I love them all equally, but for different reasons… impossible to pick just one!
6) 2017 players are currently being asked to select their "walk-up" song for the 2017 Bells season. What would your walk-up song be? "Sunshine" by Matisyahu. It became an instant ballpark sensation when catcher Bronson Larsen used it as his walkup song in 2015, and I've liked it ever since…I just can't help dancing when I hear our PA announcer play it over the loudspeakers!
7) If you were putting together a rec-league softball team this spring… who's the first player (Bells, MLB, collegiate, random person you'd add to the roster? It's a tossup between Ryder Cunningham (Bells' dugout assistant) and Nick Caples (Bells' VP of Operations). Ryder's the ultimate clubhouse guy, somebody who keeps the team loose and can help you recruit… but Nick's a crafty lefty who never cracks under pressure. Gotta have both!
8) What is your favorite story or memory from last season? I could never pick just one…. highlights from last summer included selling out Opening Day with a record crowd of 2,700+ people, an incredible tribute to Ken Griffey Jr. on his July 24th Hall of Fame Induction Day and a return to the WCL Championship Series for the second time in three years. So many special memories…. above all, my favorite part of every season is watching family-like bonds emerge between our coaches, players, game day staff and host families. So many enter our Bells' family as strangers and leave bonded for life. It's truly heartwarming to watch, and to experience, and always one of my favorite takeaways each and every season!