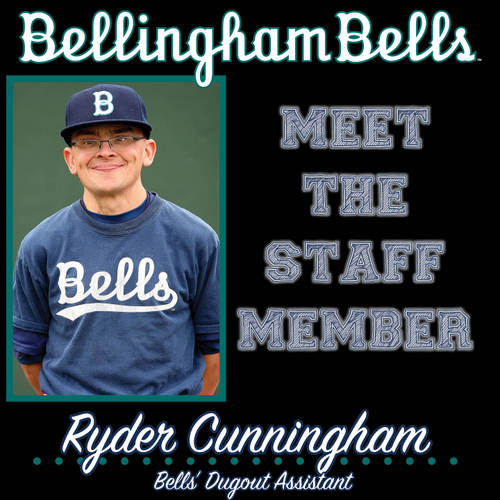 04/26/2017 9:08 AM
Ever wonder what the staff is like here at the Bellingham Bells? Check back here every Wednesday to learn some fun facts about some of our great Bells' staff members!
Ryder Cunningham - Bells Dugout Assistant
Ryder has been involved with the Bellingham Bells organization for the past 14 seasons. His main responsibilities include preparing the dugout for games, helping with the bat kids, and overall bringing a positive attitude to the team!
Get to know Ryder!
1) When you aren't coaching, watching or playing baseball—what's your favorite way to spend an evening? I like to spend time with my chocolate lab Huli, play games on my PS4 and hang out in my new Man Cave.
2) What do you look forward to about coming to Bellingham in the summer? I am looking forward to getting to know the new guys and seeing the guys from last year! I love to watch the fans cheer on the Bells, and hearing KJ saying "INTRODUCING YOUR BELLINGHAM BELLS."
3) What's the furthest you traveled away from home this offseason? I got to go to San Diego with the WWU Men's Basketball team for the NCAA D II Regional Tournament. We lost the first game but what really mattered to me was that I got to go with the team and spend time with my great friends.
4) Where do you live when you're not with the Bells? Tell us one thing about your town that most people wouldn't know. Bellingham is one of the best places in the world! I have lived here all of my 33 years. It's a great city, there a lot of great things to do in Bellingham…. like to go to Mt. Baker! I love to ski in the winter.
5) What is your primary job when you are not with the Bells?I work as the Laundry Manager at the Wade King Student Rec Center on campus at Western Washington University. I take care of all the towels. I enjoy working with all the great staff! I have also been the team manager for the Western Men's Basketball team for thirteen years. I love getting to know the players, they are great guys and become more than my team or friends, they become my band of brothers.
6) What is your all time favorite sports movie? There are a lot of good ones, but I would have to say by far my favorite is the Sandlot! "You're killing, me Smalls!"
7) 2017 players are currently being asked to select their "walk-up" song for the 2017 Bells season. What would your walk-up song be? "Lowrider" or "Bad to the Bone"
8) If you were putting together a rec-league softball team this spring… who's the first player (Bells, MLB, collegiate, random person) you'd add to the roster? There are a lot of players I would want on my team! From the Bells, I would take Danny Casals (2016 3B) and from MLB, I would take Ken Griffey, Jr.