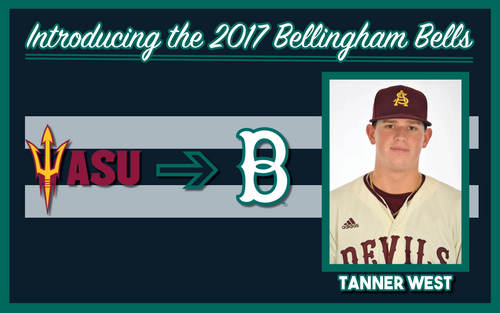 04/21/2017 8:10 AM
The Bellingham Bells are adding another Pac-12 arm to the 2017 roster. Arizona State pitcher Tanner West is the latest player from the Pac-12 to join the Bells for the 2017 season, joining talent from Cal, Oregon, Oregon State, Stanford, UCLA, Washington and Washington State on the 2017 team.
"We are excited to announce ASU pitcher Tanner West will be joining our staff this summer," Bells' Pitching Coach and Recruiting Coordinator Jim Clem said. "Sun Devils have had a lot of success with our program in Bellingham."
West is in his freshman season at Arizona State, where the left-hander has made four appearances with a 3.86 ERA in 4.2 innings on the hill. Prior to joining the Sun Devils, the Albuquerque, N.M. native was one of the best prep pitchers in the state at Volcano Vista High School. With the Hawks, West was named first team All-State in both his junior and senior seasons, following a career where the southpaw went 22-5 with a 1.66 ERA. West also threw 12 complete games in his high school career, including a no-hitter in the first round of the Metro Tournament.
West finished his high school career with a Metro Tournament championship, fanning 8 batters in the final three innings of the win. Perfect Game USA also rated West as the fifth best prospect in the state, and the second best left handed pitcher in New Mexico.
"Tanner is a talented left-handed pitcher and we are excited to have him be a Bell this summer," Clem said. "We have reason to believe that Tanner will be a very important piece of our staff."
Bellingham is slated to have players from 9 of the 11 schools that play baseball in the Pac-12 conference, including both Washington schools, and Top 5 program Oregon State.
West and the 2017 Bells will look to begin another successful campaign on Friday June 2nd against the Gresham GreyWolves at Joe Martin Field.