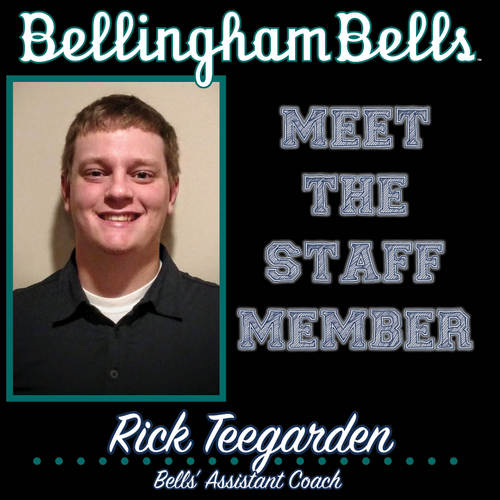 04/19/2017 7:35 AM
Ever wonder what the staff is like here at the Bellingham Bells? Check back here every Wednesday to learn some fun facts about some of our great Bells' staff members!
Rick Teegarden - Bells Assistant Coach
Rick will be entering his first season as a member of the Bells coaching staff. His primary role will be to work with the Bells' hitters and assist with the infielders and outfielders. Teegarden currently serves as a graduate assistant at Seattle University. This will be his first year at Seattle University, having previously served as the associate head coach at Shoreline Community College.
Get to know Coach Teegarden!
1) When you aren't coaching, watching or playing baseball—what's your favorite way to spend an evening? I'm not sure that there's ever an evening when I'm not doing one of those things! But, I'd have to say, watching a movie, eating some popcorn with my girlfriend and my dogs!
2) What do you look forward to about coming to Bellingham in the summer? I'm most looking forward to experiencing the atmosphere! The Bells have the best fan base in the WCL and I can't wait to be a part of it.
3) What's the furthest you traveled away from home this offseason? San Antonio/Edinburg, TX - which ever one is actually further.
4) Where do you live when you're not with the Bells? Tell us one thing about your town that most people wouldn't know. I live in Bellevue, WA. Most people don't realize it's one of the most diverse places in Washington.
5) What is your primary job when you are not in Bellingham? I am a Graduate Assistant at Seattle U!
6) What is your all time favorite sports movie? I'm not sure if I can pick just one! If I had to choose there's a movie out on Netflix titled "My All-American" and I recommend everyone go watch it. But there's also For the Love of The Game, Sandlot, Coach Carter, Tin Cup, and on and on and on.
7) 2017 players are currently being asked to select their "walk-up" song for the 2017 Bells season. What would your walk-up song be? Something either country or rap. I'v never actually had to pick a walk-up song so I am incredibly unprepared for this question!
8) If you were putting together a rec-league softball team this spring… who's the first player (Bells, MLB, collegiate, random person) you'd add to the roster? Obviously Jim Clem!