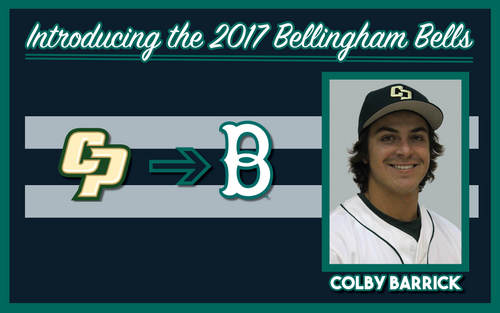 04/14/2017 10:34 AM
Cal-Poly outfielder Colby Barrick is the latest player from the Golden State to join the Bellingham Bells for the 2017 season, joining talent from UCLA, Long Beach State, Stanford, Chico State, and Cal on Bellingham's roster.
"We are greatly appreciative of our relationship with Cal-Poly," Bells' general manager Stephanie Morrell said. "Many talented Mustangs have worn the Bells uniform over the past several seasons. We look forward to adding one more to the list with Colby Barrick!"
Barrick is in his first season at Cal-Poly, where the left-handed batter is having a fantastic inaugural campaign with the Mustangs. In 22 games, the Santa Ynez, Calif. native is hitting .404 with nine runs batted in for the Mustangs.
Prior to joining Cal-Poly, Barrick excelled at both Hancock Community College and Santa Ynez High School. At Hancock, Barrick hit above .300 in both of his seasons with the team, clubbing a .388 average as a sophomore with five home runs, 24 RBIs, and 13 stolen bases, en route to earning All-State and All-Conference honors.
At the high school level, Barrick earned the Los Padres league MVP as a senior, while also helping guide Santa Ynez High to a section championship and a 29-1 record. Barrick was a career .367 hitter in 87 games, stealing 31 bases on 32 attempts and driving in 41 runs.
"Colby provides consistency and power to the Bells' offense," Morrell said. "He's a proven hitter who finds a way to get on base. Once he's on base, he keeps teams honest with his speed and ability to steal bases. We are excited for the spark we know Colby will add to the Bells' offense this summer."
Barrick and the 2017 Bells will look to begin another successful campaign on Friday June 2nd against the Gresham GreyWolves at Joe Martin Field.