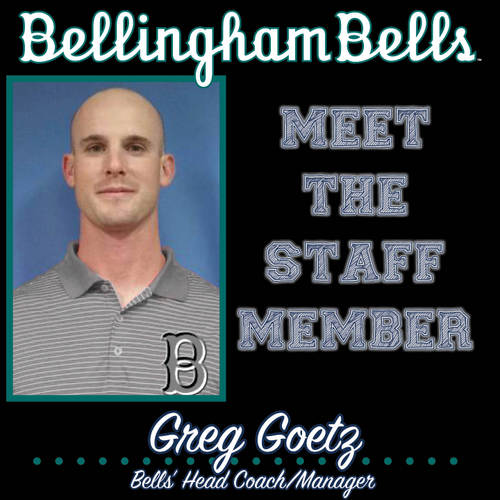 04/12/2017 9:33 AM
Ever wonder what the staff is like here at the Bellingham Bells? Check back here every Wednesday to learn some fun facts about some of our great Bells' staff members!
Greg Goetz - Bells Head Coach/Manager
Goetz will enter his first season as head coach of the Bells in 2017. Currently, Goetz serves as the Director of Baseball Operations at Seattle University. He joined the Redhawks in 2016 after spending three seasons on staff at St. Andrew's University in Laurinburg, N.C.
Get to know Coach Goetz!
1) When you aren't coaching, watching or playing baseball—what's your favorite way to spend an evening? I like to get the BBQ fired up and spend time with my friends and family.
2) What do you look forward to about coming to Bellingham in the summer? The incredible game atmosphere, community support and great baseball.
3) What's the furthest you traveled away from home this offseason? This year I traveled to Nashville, TN.
4) Where do you live when you're not with the Bells? I live in Bellevue when I am not with the Bells.
5) What is your primary job when you are not in Bellingham? I am the Director of Baseball Operations at Seattle University.
6) What is your all time favorite sports movie? Bull Durham.

7) 2017 players are currently being asked to select their "walk-up" song for the 2017 Bells season. What would your walk-up song be? Guns & Roses - Welcome to the Jungle. It was my song when I played!

8) If you were putting together a rec-league softball team this spring… who's the first player (Bells, MLB, collegiate, random person) you'd add to the roster? Definitely Jim Clem!