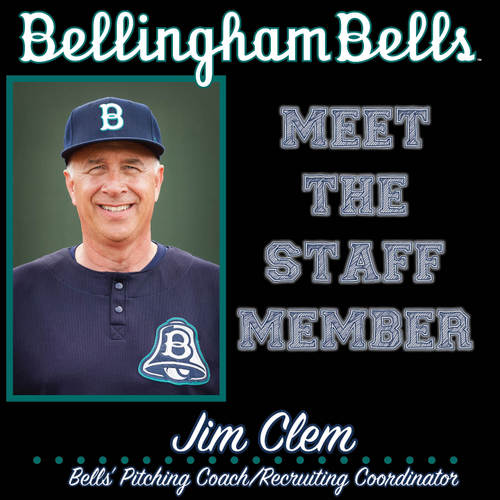 04/05/2017 8:52 AM
Ever wonder what the staff is like here at the Bellingham Bells? Check back here every Wednesday to learn some fun facts about some of our great Bells staff members!
Jim Clem- Bells' Pitching Coach/Recruiting Coordinator
Jim Clem is one of the most recognized names among baseball coaches in the Pacific Northwest and beyond. For his extraordinary success, six different institutions have chosen Coach Clem to be inducted into their respective Hall of Fames. The 2017 season will be Coach Clem's seventh with the Bells and continues to be an important factor in the team's success.
Get to know Coach Clem!
1) When you aren't coaching, watching or playing baseball—what's your favorite way to spend an evening? At the end of a day, I enjoy relaxing in our home and watching a good movie.
2) What do you look forward to about coming to Bellingham in the summer? Coaching a new group of players is always exciting to me! Seeing all the great people I am fortunate enough to work with! I also enjoy seeing our loyal fans and all the kids at the ballpark.
3) What's the furthest you traveled away from home this offseason? My wife and I spent a couple weeks in Scottsdale, AZ.
4) Where do you live when you're not with the Bells? Tell us one thing about your town that most people wouldn't know. I live in Burlington, WA. Mel Hein, a Burlington grad, played 15 seasons with the New York Giants and is the only offensive lineman to ever win the NFL-MVP award.
5) What is your primary job when you are not in Bellingham? I am a retired high school history teacher/athletic director/coach. I still coach baseball (spring and summer) and enjoy it very much!
6) What is your all-time favorite sports movie? The Natural.
7) 2017 players are currently being asked to select their "walk-up" song for the 2017 Bells season. What would your walk-up song be? As a former pitcher, regardless of where I am, I get excited whenever I hear the greatest walk up song of all-time! It was used for Mariano Rivera, the greatest closer in MLB history. "Enter Sandman" by Metallica... I get fired-up just thinking about it! : )
8) If you were putting together a rec-league softball team this spring… who's the first player (Bells, MLB, collegiate, random person) you'd add to the roster? Jake Whisler... He can play any position and you know our team would have more "PEP!"
9) What is your favorite story or memory from last season? No one particular thing, but I loved the grittiness of our team. There were many moving pieces and yet our team was able to overcome all obstacles, eventually playing for the WCL championship! I especially appreciated the effort of our players when you knew they were tired... Spending each day with the other coaches who cared and gave it their all. The constant support that came from our management team, team trainers, game day staff, and loyal fans always gave me energy! On a side note, I will admit now that Danny Casals and Nick Silva had me laughing most days! As their coach, I would never tell them that, but there were times when my face hurt from smiling so much at their goofy jokes and comic routines! Lots of good memories of the 2016 season! :)