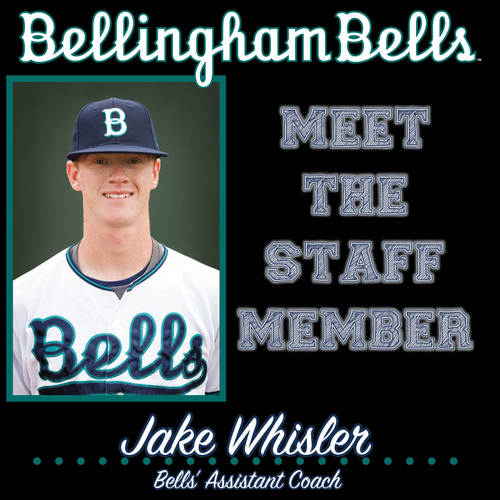 03/29/2017 8:59 AM
Ever wonder what the staff is like here at the Bellingham Bells? Check back here every Wednesday to learn some fun facts about some of our great Bells staff members!
Jake Whisler- Bells' Assistant Coach
Jake Whisler returns to the Bells staff as an assistant coach in 2017, after a successful first year on Manager Mike Gange's staff in 2016. Whisler is a native of Klamath Falls, Ore. who was a standout athlete at Klamath Union High School and a four year three-sport athlete. He is currenty a Graduate Assistant Coach for Western Oregon University.
Get to know Jake!
1) When you aren't coaching, watching or playing baseball—what's your favorite way to spend an evening? The nights that I don't spend coaching I like to come home and make a home cooked meal. Being a coach sometimes doesn't give you the time you need to sit down and cook a meal so I try to take advantage of that when I can!
2) What do you look forward to about coming to Bellingham in the summer? I look forward to seeing all of the great friends and people that are involved in the Bells organization and also meeting the new players!
3) What's the furthest you traveled away from home this offseason? The farthest I have traveled this year was to San Diego, CA!
4) Where you do live when you're not with the Bells? Tell us one thing about your town that most people wouldn't know. I live in Monmouth Oregon. Monmouth is home to Western Oregon University and that's who I coach for! Something that someone wouldn't know about Monmouth is that it was a dry town until 2010.
5) What is your primary job when you are not in Bellingham? My primary job is Graduate Assistant Coach for Western Oregon University Baseball!
6) What is your all time favorite sports movie? My favorite sports movie would have to be Remember the Titans.
7) 2017 players are currently being asked to select their "walk-up" song for the 2017 Bells season. What would your walk-up song be? My walk up would be " It's A Great Day to Be Alive" by Travis Tritt.
8) If you were putting together a rec-league softball team this spring… who's the first player (Bells, MLB, collegiate, random person) you'd add to the roster? The first person I would add to my soft ball team roster would have to be Coach Clem. I can see him being a quality starter throughout the year that could put up some great numbers!
9) What is your favorite story or memory from last season? My favorite memory from last year was playing on the last day of the season with a terrific group of guys and coaches. I will never forget that day even though we came up short. What a great day and season. Something that I hope to repeat this summer!