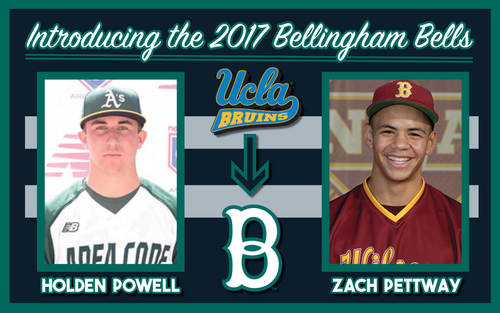 03/08/2017 11:58 AM
Two talented prep arms from the state of California bound for UCLA will be joining the Bellingham Bells in the summer of 2017. Right-handed pitcher Zach Pettway from Long Beach, Calif. and right-handed hurler Holden Powell from Visalia, Calif. will make the journey from the Golden State to the Evergreen State this summer.
"There usually aren't many high school players in the WCL, but those who make a team typically have exceptional talent and are mature for their age," Pitching Coach and Recruiting Coordinator Jim Clem said. "The two high school players that made our roster definitely fit that criteria. We are very excited to add RHP's Zach Pettway and Holden Powell to our team! Both will be attending UCLA and there is no doubt they will be key pitchers for the Bells' staff this summer."
Pettway is ranked as the 30th best prospect in the state of California, and in the top 175 players in the country according to Perfect Game USA. Perfect Game also named him third team All-American underclass following his junior season at Long Beach Wilson High School. As a sophomore, Pettway held a 6-3 record on the bump with a 1.15 ERA in 79 innings for the Bruins. Pettway also pitched for the Milwaukee Brewers in the 2016 Area Code Games.
"Zach is known for being a very good athlete, who is also competitive and smart on the mound," Clem said. "While his pitches are definitely advanced for his age, we understand his maturity really shows in the poise he displays while competing. All we hear is that Zach is a terrific kid!"
Powell excelled in his junior season at Mt. Whitney High School in Visalia. On the hill, Powell fired 66 and two-thirds innings, fanning 81 batters and going 9-2 with a 0.42 ERA, earning Tulare County Player of the Year. Powell was selected to 2016 17-U U.S. National Team Developmental Program and played for the Oakland A's in the 2016 Area Code Games. Powell is ranked in the top 500 players in the country and top 100 players in the state of California by Perfect Game USA.
"Holden is an outstanding athlete who has had a lot of success playing both baseball and basketball in high school," Clem said. "Holden has a very live fastball and good secondary pitches to compliment his fastball. With his high character, Holden will be great in the clubhouse too!"
Powell, Pettway and the 2017 Bells open the regular season against the Gresham GreyWolves on June 2nd at Joe Martin Field in Bellingham.