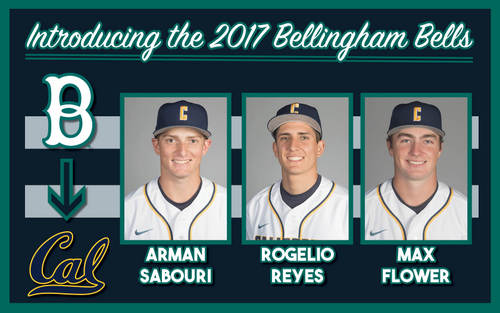 02/08/2017 5:03 PM
Three California Golden Bears are set to join the Bellingham Bells in the summer of 2017. Right-handed pitcher Rogelio Reyes from Union City, Calif., left-handed hurler Arman Sabouri from San Jose, Calif. and outfielder Max Flower from Lafayette, Calif. will make the trip from Berkeley to Bellingham this summer.
Sabouri, Reyes, and Flower continue in a line of excellent Cal players come to the Bellingham, after a trio of Golden Bears excelled on the diamond in 2016 for the Bells. Catcher Matt Ruff reached base in seven of his final eight games as a Bell, including both of his post-season appearances, while both Joey Matulovich and Jared Horn were standouts for Bellingham on the hill.
Both Horn and Matulovich were named to the 2016 WCL All-Star team, and earned all WCL honors at season's end. Horn was named to the second team after finishing the summer with a 1.50 ERA in 13 appearances while holding opposing batters to a .086 batting average. Matulovich picked up honorable mention recognition after leading the Bells in strikeouts with 57 and innings thrown with 44.2.
"We are very excited to have another group of Cal Bears coming to Bellingham this summer," Bells' Pitching Coach and Recruiting Coordinator Jim Clem said. "We expect all three players to be keys to our success in 2017."
Reyes joins the Bells after an outstanding prep career at James Logan High School in Union City, Calif. Reyes dominated on the bump during his senior season in 2016, going 10-1 with a microscopic 0.81 ERA. Reyes fired six complete games and 69 innings during the season, fanning 90 batters at the plate compared to just 11 walks. In addition, Reyes hit .365 at the dish with 21 RBIs while also starting at quarterback on the gridiron for the Colts. Reyes was named Mission Valley Athletic League MVP and first team All-Metro by the San Francisco Chronicle for his senior campaign. Reyes also played alongside current Cal teammate and former Bell Jared Horn in the 2015 Area Code games, representing the Oakland A's.
"Rogelio Reyes is a hard throwing RHP with lots of promise," said Clem. "Rogelio has had a lot of success along the way, his pitch ability is excellent, and he is expected to help the Bears this spring. Rogelio looks to be quite versatile and it is expected that he could be used as either a starter or a reliever. That versatility should really benefit the Bells."
Sabouri is another talented freshman arm out of Cal who will join the Bells after a lights out high school career. Sabouri went 10-4 with a 0.91 ERA in his senior campaign at Branham High School in San Jose, a season in which he fanned 122 batters in 84.2 innings. Sabouri was named an All-American and All-State player by MaxPreps after his junior season, where the southpaw went 15-1 with a 0.92 ERA and 126 strikeouts. As a sophomore, Sabouri helped the Bruins capture a state title, finishing with an 8-2 mark, a 1.60 ERA and 80 strikeouts on the hill.
"Arman is a LHP who has a very impressive baseball resume! He will surely help the Bells' pitching staff," Clem said. "Arman is a strike thrower, and besides having a good fastball, his secondary pitches are quality as well. It is still to be determined, but Arman will likely be a reliever and should be a big contributor out of the bullpen."
Flower is another member of the freshman class at Cal, and a talented outfielder for the Golden Bears. Flower was a two-sport star at Campolindo High School in Moraga, Calif., where the 6-foot-4-inch right-hander was an All-State performer on the football field as a wide receiver, and an all-league selection on the diamond as a senior, after hitting .375 for the Cougars. Flower also earned All-California honorable mention from Perfect Game USA and participated in the 2015 Area Code Games, representing the New York Yankees.
"Max Flower is a very accomplished outfielder," Clem said. "At 6 foot 4 inches, 215 pounds, Max is big and physical. He swings it well and has power too! Defensively, Max is very good in the outfield. He is athletic, runs well, and has a strong throwing arm. No question, Max brings a lot to the team and will be a lot of fun for Bells fans to watch play this summer!"
Flower, Sabouri, Reyes and the Bells will kick off the 2017 campaign at home with a three-game series against the Gresham GreyWolves starting on June 2nd at Joe Martin Field in Bellingham.