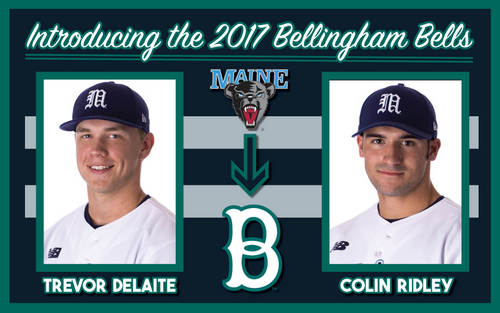 01/30/2017 12:01 PM
In 2017, for the fifth consecutive season, members of the University of Maine baseball team will head across the country to play for the Bellingham Bells in Bellingham, Wash. Outfielder Colin Ridley from Harwich, Mass. and left-handed pitcher Trevor DeLaite from Bangor, Maine are the latest Black Bears to suit up for Bellingham.
"We feel fortunate to be continuing a great relationship with the University of Maine," Bells' General Manager Stephanie Morrell said. "Maine players have a great reputation within our organization, and in past seasons there have been many Black Bears who have been key contributors to our on-field success. We expect more of the same from Colin and Trevor, who are extremely talented young players."
Ridley excelled for the Black Bears as a freshman in 2016, leading the team in several categories, smacking six home runs and driving in 42 men during the regular season. Ridley, who appeared in 51 games for Maine, also clubbed 13 doubles en route to a .299 batting average for the season. Ridley preformed well in big games, going 3-4 with three RBIs in a conference tournament win over University of Maryland-Baltimore County. Ridley's efforts in 2016 were rewarded with a spot on the America East All-Rookie team.
"Colin is a great player who can really hit," Morrell said. "Coming off a 2016 season marked by a .299 batting average and America-East All-Rookie Team honors, we look for his continued success at the collegiate level this spring. We expect Colin to be a key contributor to our offense as well as a steady presence in the outfield. We can't wait to have him in a Bells' uniform!"
Ridley's new Black Bear teammate, DeLaite, comes to Bellingham after a decorated prep career at Bangor High School in Maine. In his senior campaign, DeLaite fired 68 innings, striking out 100 batters compared just to 14 walks. DeLaite finished with a 9-1 mark on the hill and a microscopic 0.30 ERA in 2016. DeLaite capped his fantastic career by throwing a complete game shutout in Bangor's third straight state championship win over Falmouth. DeLaite fanned 10 and allowed only three hits in the win. DeLaite also racked up the awards for his legendary 2016 season, as the left-hander was named Maine Gatorade Player of the Year, the Maine Sunday Telegram Player of the Year and the John Winkin "Mr. Baseball" Player of the Year. DeLaite compiled a record of 24-2 in his high school career along with three state championships.
"Trevor is a gifted young pitcher," Morrell said. "His tremendous success at the high school level is no doubt correlated to his excellent mound presence and ability to throw strikes. It's not often you find a player at any level who finishes a season with a .30 ERA in 68 innings. We expect Trevor to be a challenge for those who face him this summer, and look forward to the many contributions we know he will make to the pitching staff."
Ridley, DeLaite and the Bells will kick off the 2017 campaign at home with a three-game series against the Gresham GreyWolves starting on June 2nd at Joe Martin Field in Bellingham.