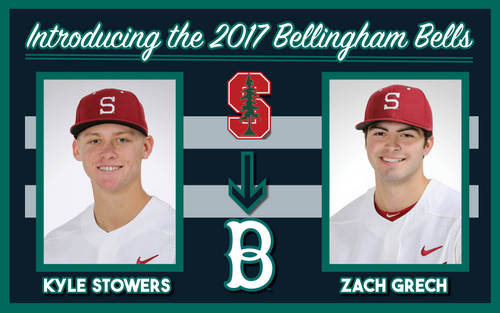 01/25/2017 10:05 AM
A pair of talented Stanford freshmen will travel up the coast to Bellingham, Wash. to suit up for the Bellingham Bells in 2017. Pitcher Zach Grech from Las Vegas, Nev. and outfielder, first baseman and pitcher Kyle Stowers from El Cajon, Calif. will join the Bells at Joe Martin Field in 2017.
"We are very pleased to announce that Stanford players Kyle Stowers and Zach Grech will join the Bells for the 2017 season," Bells' Pitching Coach and Recruiting Coordinator Jim Clem said. "We have greatly enjoyed having Stanford players in the past and are thrilled to add two high character players in Kyle and Zach to the Bells roster!"
Stowers was among the cream of the crop from Southern California, starring at Christian High School in El Cajon, near San Diego. Stowers helped his club win a state championship, while twice being named first team All-State. In addition, Stowers was lauded as an All-American by MaxPreps in 2015 and earned the 2016 Student-Athlete of the Year award from the San Diego Union-Tribune, after holding a .367 batting average on the diamond and finishing with a 4.25-grade point average in the classroom. Stowers has also donned the red, white and blue, competing for Team USA at the Tournament of Stars in Cary, NC.
"Stowers was a highly sought after recruit who has had success as both an outfielder and on the hill as a pitcher," Clem said. "As a left-hander, he hits for average and power and also throws exceptionally well. Kyle will be a fun player for Bells' fans to watch this summer!"
Stowers' Cardinal teammate, Grech, comes to the Pacific Northwest after a phenomenal prep career at national powerhouse Bishop Gorman High School in Las Vegas. Among his accomplishments, Grech can note he was the winning pitcher in the 2015 state championship game for the Gaels. Grech was hailed as the 14th best high school player in the state of Nevada by Perfect Game USA at the conclusion of his senior season. Perfect Game USA also named Grech All-West Region Honorable Mention, following a senior campaign where the 6-foot right-hander went 4-1 with a 2.17 ERA and 27 strikeouts in 38 and 2/3 innings.
"Zach Grech is a talented freshman right-handed pitcher, who will give strength to our relieving corps," Clem said. "Zach is known for pounding the strike zone with more than one pitch. His command and competitive nature will surely help the Bells this summer."
Grech, Stowers and the Bells kick off the 2017 campaign at home with a three-game series against the Gresham GreyWolves starting on June 2nd at Joe Martin Field in Bellingham.