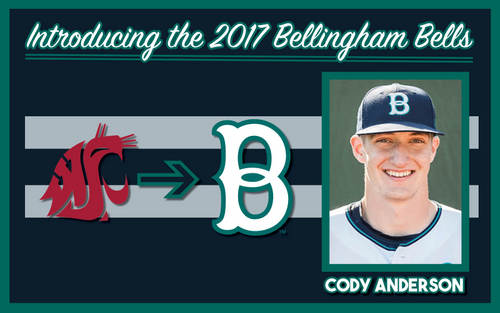 01/23/2017 12:02 PM
Cody Anderson, a member of the Bellingham Bells pitching staff during the 2015 season, will return for 2017, the team announced today.
Anderson, a junior left-handed pitcher at Washington State University, pitched 34 innings for the Bells during the 2015 season. Finishing the season with a 3.38 ERA and 2-0 record, Anderson recorded 22 strikeouts as the Bells captured the West Coast League West Division championship.
"Cody was a big contributor to our success in 2015, appearing in 18 games," Bells' general manager Stephanie Morrell said. "Since his time with us two years ago, Cody has continued to develop as a talented left-handed pitcher. In Cody, the Bells add not only a key contributor to the pitching staff, but also a great teammate who will set a strong example for all of the incoming 2017 Bells. We are absolutely thrilled to have Cody returning to Bellingham!"
Anderson was signed by Division I Washington State University in 2016 after a successful junior college career at Bellevue College. With Bellevue College in 2016, Anderson ended the season 7-3 with a league-leading 114 strikeouts and a 2.51 ERA in 85.2 innings.
Originally from Marysville, Wash., Anderson is a graduate of Marysville-Pilchuck High School. He was a two-time first-team All-Wesco selection for Marysville-Pilchuck. During his senior year at MPHS, he threw one perfect game and one no-hitter.