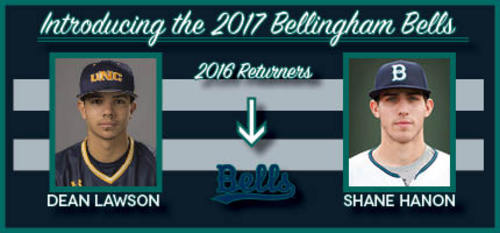 01/09/2017 12:04 PM
Outfielder Shane Hanon from Gig Harbor, Wash. and infielder Dean Lawson of Fort Collins, Colo. will return for a second season at Joe Martin Field with the Bellingham Bells in 2017. Hanon, who led the West Coast League in batting average in 2016, will be a sophomore at Marshall University in West Virginia, while Lawson will enter his junior campaign at Northern Colorado in 2017.
Both Hanon and Lawson were important contributors to the 2016 Bells, who captured the WCL Northern Division second half championship with an overall record of 32-22 and advanced to the WCL Championship Series.
"We are pleased to announce the return of both Shane Hanon and Dean Lawson for 2017," pitching coach and recruiting coordinator Jim Clem said. "Both Shane and Dean are great guys to have in a clubhouse!"
Hanon came to the Bells in 2016 on a 10-day contract from Edmonds Community College. By the time the summer had drawn to a close, Hanon had stamped his mark on the Bells' season with a league leading .331 batting average, a WCL All-Star team selection, a spot on the all-WCL first team and a scholarship to Division I Marshall University.
"Shane was definitely a catalyst for our team last summer," Clem said. "He got off to a hot start and was able to sustain a high level of play all summer long. Besides being a gifted offensive player, he is also exceptional in the outfield."
In 46 games, Hanon, a 2014 graduate of Peninsula High School, had 56 hits with 11 doubles, 2 home runs, 16 runs batted in and 31 runs scored, helping lead Bellingham to WCL Championship series appearance.
Lawson was another important contributor to the Bells' deep playoff run. Joining the club July 31st, Lawson appeared in 11 regular season games and four of five playoff games. In 15 total games for the Bells, Lawson hit .313 with five runs driven in, five stolen bases, seven runs scored and 15 walks. Lawson's effort in a 3-2 playoff victory over Victoria was a showcase of his impact on the club, as he reached base all four times he came to the plate, going 1-1 with an RBI double, 3 walks and a stolen base.
"Dean Lawson joined our team late last season and really gave us a spark down the stretch!" Clem said. "He was pivotal to our late season success, especially through the playoff run. Besides having some clutch hits for us, Dean finds ways to get on base, and once he gets there, he finds ways to score."
Lawson, a 2014 graduate of Rocky Mountain High School, comes off a fantastic 2016 campaign at Division I Northern Colorado where he led the Bears with a .357 batting average. Lawson appeared in 43 games for UNC, tallied 46 hits, scored 26 runs, drove in 16 men and stole 10 bases.
Lawson, Hanon and the Bells kick off the 2017 campaign at home with a three game series against the Gresham GreyWolves starting on June 2nd at Joe Martin Field in Bellingham.