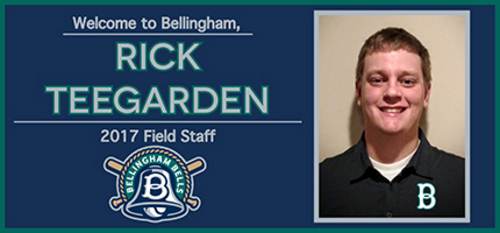 12/08/2016 11:25 AM
The Bellingham Bells have hired Rick Teegarden as an assistant coach, the club announced today. Teegarden currently serves as a graduate assistant coach at Division I Seattle University.
"We are thrilled to announce the hiring of Coach Teegarden, who will be an excellent addition to a very talented coaching staff," general manager Stephanie Morrell said. "Rick's experience with several premier Northwest baseball programs, as well as his commitment to helping young players succeed, made him a great fit to join our team. We look forward to the many positive contributions we know he will make during the summer of 2017!"
Teegarden is in his first season on the coaching staff at Seattle University. Teegarden previously served as an associate head coach at Shoreline Community College, where he helped guide a turnaround of the Dolphins' offense. Teegarden also worked as undergraduate assistant for the University of Washington.
"The opportunity, not only to coach in the West Coast League, but also to be a part of such a great community, was what made me jump at the chance to join the Bells," Teegarden said. "This organization and their fans have really developed something special up in Bellingham and I cannot be more excited to be a part of it. I'm looking forward to being a part of such an outstanding organization and community. I can't wait to spend my summer up in Bellingham!"
Originally from Bellevue, Wash., Teegarden starred on the diamond for Sammamish High School, helping the Totems to an appearance in the state tournament. An injury cut short Teegarden's playing career six years ago, jump starting his coaching career. Teegarden will work with the Bells' hitters, as well as the infielders and outfielders during the upcoming summer.
"My biggest focus as a coach is developing confidence in players," Teegarden said. "The roster is loaded with Division I talent from all over the country and I'm excited to start working with them to develop a deeper understanding of the game. Having a good plan and trusting your ability can do wonders for a player as they step into the box! Those two things, coupled with a clear and quiet mind, can help a player become increasingly successful, which only boosts confidence, which in turn boosts productivity."
Teegarden joins a coaching staff featuring two returners from last season. Pitching coach and recruiting coordinator Jim Clem returns for his 7th season with the Bells, while assistant coach Jake Whisler comes back for his second summer in Bellingham. Rounding out the coaching staff is head coach Greg Goetz, who will guide the Bells for the first time this summer.