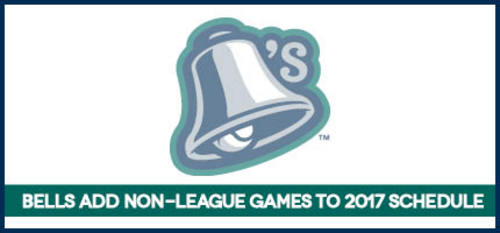 11/03/2016 9:24 AM
The Bellingham Bells are excited to announce the addition of three non-league contests to their 2017 schedule, the team announced today. The additional non-league games bring the total number of 2017 home games at Joe Martin Field to 30.
The Bells will open their non-league schedule with the Kitsap BlueJackets on Friday, June 16. The BlueJackets, who competed in the West Coast League during the 2016 season, have changed leagues and will compete as part of the Pacific International League in 2017.
Tuesday, June 27 will bring the Pacific International League's Everett Merchants to Joe Martin Field. The Merchants and the Bells have faced off two of the past three seasons.
On Wednesday, June 28, the Bells will face their final non-league opponent for 2017, the Rainier Snowcaps. The Snowcaps, a member of the Northwest Collegiate Baseball League, are based out of Edmonds, Wash.
First pitch for all non-league contests will be 6:35 p.m.
"We are thrilled to add three competitive teams to our 2017 schedule," Bells' general manager Stephanie Morrell said. "We look forward to giving our fans an opportunity to see a few extra games while at the same time providing competitive matchups with opponents outside of the WCL."
The Bells are finalizing the 2017 promotional schedule, which will be available at a later date. For more information about the 2017 schedule, visit www.bellinghambells.com or call (360) 527-1035.