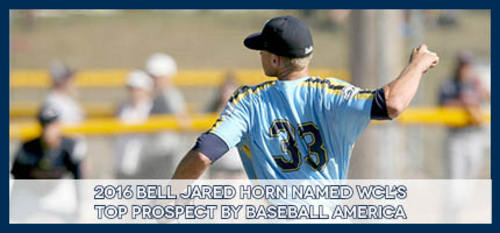 09/02/2016 6:58 AM
Baseball America has named Bells pitcher Jared Horn the number one prospect in the West Coast League for summer 2016, the organization announced today.
Horn, an incoming freshman for Cal-Berkeley, was 1-0 for the Bells during the 2016 season in 18 innings. His 1.50 ERA was the third lowest on the Bells staff.
Horn was drafted by the Milwaukee Brewers in the 20th round of the 2016 MLB draft, and chose to honor his commitment to Cal in lieu of signing with the Brewers.
From Baseball America:
"Viewed as a borderline first-round talent in June, Horn held firm in his commitment to the Golden Bears and slipped to the 20th round before the Brewers took a flier on him. He spent the summer in Bellingham, Wash., where he earned high marks for his skill set, athleticism and makeup.
Horn's fastball sat in the mid-90s and flashed a few 98s. Bells coach Mike Gange said the breaking ball is more advanced than his changeup at this point, but called it "a true weapon" that has the "ability to get swings and misses while landing it for strikes early in counts."
The 6-foot-2, 190-pound righty pitched out of the bullpen this summer and had some issues throwing strikes (14 walks in 18 innings). However, the stuff was there (16 strikeouts) and he only allowed five hits. Horn was a three-sport standout until his senior year at Vintage High in Napa, Calif., so he's considered relatively green. If he can learn to repeat his mechanics and find a consistent release point, there is a good chance he develops into an ace at Cal and potentially at the next level."
Bellingham High School graduate and Bellevue College commit Austin Shenton was also named to the list by Baseball America. Shenton hit .283 for the Bells during the 2016 season with 34 hits, six doubles and a triple.
The entire list of top ten West Coast League prospects included:
1) Jared Horn, RHP, Bellingham Bells—Freshman, Cal Berkeley
2) Cameron Bishop, LHP/OF, Corvallis Knights—Junior, UC—Irvine
3) Willie MacIver, C, Walla Walla Sweets—Sophomore, University of Washington
4) Chris Murphy, LHP, Walla Walla Sweets—Freshman, University of San Diego
5) Kenyon Yovan, RHP, Cowlitz Black Bears—Freshman, University of Oregon
6) Easton Lucas, LHP, Walla Walla Sweets—Sophomore, Pepperdine
7) Austin Shenton, 3B/OF, Bellingham Bells—Freshman, Bellevue College
8) Ryan Kreidler, SS/3B, Wenatchee AppleSox—Freshman, UCLA
9) Michael Toglia, 1B/OF, Wenatchee AppleSox—Freshman, UCLA
10) Chase Kaplan, LHP, Corvallis Knights—Junior, Kansas