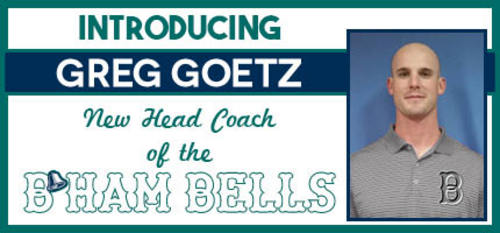 08/31/2016 6:01 PM
Greg Goetz has been named head coach of the Bellingham Bells, the team announced today.
"Greg stands for everything we look for in a Bell," Vice President of Operations Nick Caples said. "He is a man of high integrity who has a clear passion for developing young men both on and off the baseball field. He has proven he can get the most out of his players on the field by instilling a philosophy of focus and mental preparedness. That results in a team that plays hard from the first pitch of the game to the last. We look forward to the 2017 Bells season with Coach Goetz leading the way."
Goetz currently serves as the Director of Baseball Operations at Seattle University. He joined the Redhawks in 2016 after spending three seasons on staff at St. Andrew's University in Laurinburg, N.C. While with St. Andrew's, Goetz served as the pitching and strength coach, helping lead the Knights to some of their best seasons in recent history. In his first year with the program in 2013, Goetz's staff posted the lowest team ERA for St Andrew's in over a decade. Goetz's 2015 pitching staff led the conference with a league-best 3.42 ERA.
Goetz comes to the Bells with previous collegiate summer league head coaching experience after managing the North Sound Emeralds during the 2016 season. Under Goetz's direction, the Emeralds posted a 21-6 record.
"I am extremely excited to join the Bells family. It is a first class organization top to bottom. I am looking forward to spending the summers in Bellingham and the great community that surrounds the Bells," Goetz said. "I would like to thank Eddie Poplawski, Stephanie Morrell, and Nick Caples for this opportunity. It was clear after meeting with them that our philosophies and visions of the program were closely aligned. I am thrilled to work alongside Coach Clem. He has been an integral part of the Bells success. I am excited to get to work and carry on the tradition of the Bells."
Originally from Bellevue, Wash., Goetz was a standout player at Newport High School, where he won a state championship with the Knights in 2001. Drafted in the 35th round by the Florida Marlins in 2002, Goetz chose to attend college and played collegiately at Washington State University and Bellevue College before being drafted again by the Cincinnati Reds in 2004, this time in the eighth round. Before his professional career was cut short due to injury, Goetz spent time with the Reds' short-season Single-A team, the Billings Mustangs.
Goetz will take the reigns from Mike Gange, who managed the team in 2016 after two seasons as an assistant on Jeff James' staff. Gange resigned in August 2016 after accepting a full-time assistant coach & recruiting coordinator position at Pacific University in Forest Grove, Ore.
"We are absolutely thrilled for Mike as he takes the next step in his coaching career. We can't thank him enough for all of the positive contributions he has made to our program over the past three seasons," general manager Stephanie Morrell said. "Like the Bells coaches before him, Mike has set the bar high. We feel very fortunate to have found Coach Goetz, who we believe is highly capable of continuing the on and off field success the Bells have experienced during the last several summers."
"Coach Goetz is a great addition to the Bells' family," Gange said. "He has qualities that coaches, like myself, try and emulate in terms of his character and professionalism. He is a professional in every sense of the word who brings a great amount of knowledge of the game with him to Bellingham. Future Bells should be excited to have the opportunity to work with such a great person and coach."